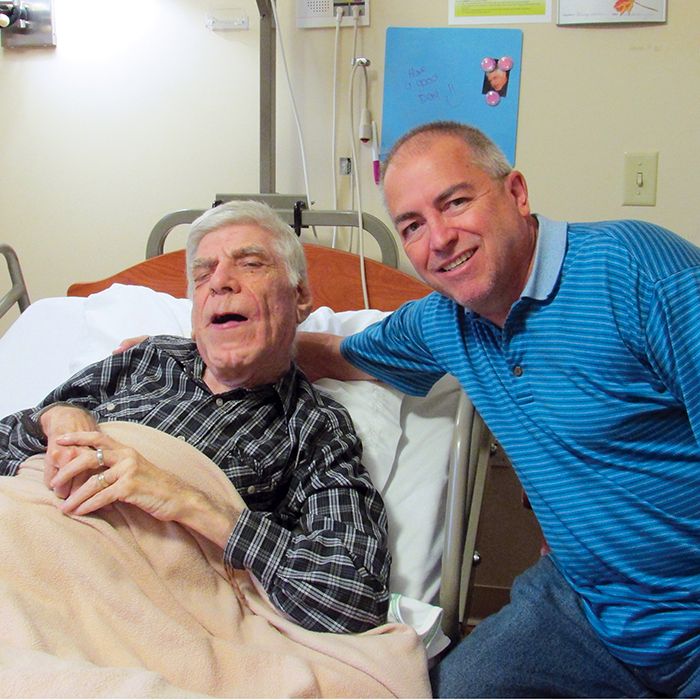 Keith Spicer and Patrick Douglas.
Keith Spicer's room at Riverview Gardens at first appears like any other in a long-term care facility. It's clean, functional and has personal mementoes, which give it somewhat of a personal touch.
It's when you realize that this is more than a room – it's Spicer's entire world, that it suddenly seems smaller and almost claustrophobic.
For more than a quarter of a century, a variety of medical issues have kept him bedridden, but while his body doesn't leave his room, there are no restrictions on Keith's spirit.
It is that spirit and faith that walk the community in a booklet, "Treasures from the Heart," which he completed last month.
The diseases that have twisted his body and have made it difficult for him to speak bely the sharp mind within.
Denied much of the social interaction many take for granted, he finds inspiration wherever he can.
To his right, a four-foot-by-six foot window provides a glimpse of a neighbourhood and parking lot; to his left, a hallway where he can see passersby.
"I can get ideas from a single word I overhear in the hall," he said. "Sometimes just looking outside gives me an idea."
Lacking the physical ability to write, Spicer takes a word or thought, builds it and stores it away until he has a chance to discuss it with his collaborator, local author Pat Douglas.
"I keep my ideas in my mind and heart until I see Patrick and I tell him," Spicer said.
Douglas, who came across some of Spicer's writing several years ago, transcribes his friend's words, types them and returns them for his approval.
"Keith is very particular about his writing. He wants every word to exactly reflect his thoughts."
The booklet contains stories from Spicer's life, such as flying in a small plane with his father and riding his bike to his childhood home accompanied by scores of fireflies, as well as holiday pieces and vignettes about love.
"Treasures from the Heart" is an extended version of poems and stories Spicer first started compiling when he was a resident of Thamesview Lodge two decades ago.
"I just started writing little poems and paragraphs and people liked them," he said.
"Someone said one day that I should make a book, so I did."
Douglas became aware of Spicer's writing and went to visit him. "It became apparent that Keith has an amazing ability to connect with people," he said. "He senses things that escape most people."
Spicer had been making copies of his stories on letter-sized paper, and the demand for them among staff and residents at Riverview Gardens grew.
"I would make copies of the stories and people would be trading them back and forth. One time I had to make 100 copies of one story it became so popular."
A common theme running through the stories is Spicer's faith.
"I know my Lord in my heart and He helps me with the writing," he said.
Copies of Spicer's book can be found at the office of the Gregory Drive Alliance Church and at The Chatham Voice in return for a nominal donation to help defray printing costs.