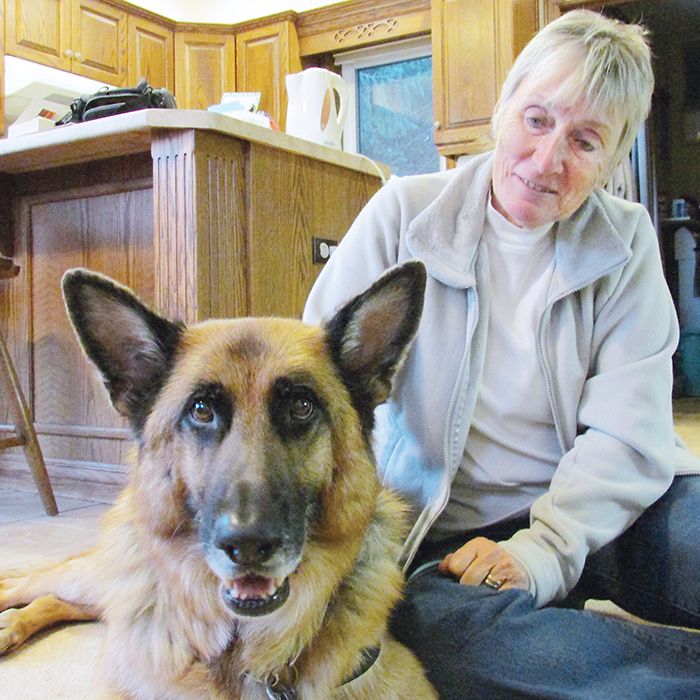 They are companions, friends, and confidants.
If the world is giving you a rough time of it, they're always there.
In time, they become part of the family.
They're our pets, and the lengths we go to keep them safe and healthy know no bounds.
For Lynda Melnick, the commitment to her German Shepherd Rapi is being recognized on the Animal Planet's popular show, "Save My Pet." An episode featuring Rapi will be broadcast Nov. 22 at 9 p.m.
Lynda and her husband John, who passed away in April of 2011, purchased
Rapi from Winnipeg a decade ago for the small kennel business they were operating.
"We picked up him in London. It was a miserable, rainy day," Lynda said. "If you knew John, he loved his dogs but they always rode in the back of the truck except for  Rapi. He rode home all the way in my lap in the front seat."
Rapi began having difficulty with his hind legs more than three years ago. Among his health problem was a herniated disk. He required multiple surgeries and extensive physiotherapy and now has a sling that Lynda uses to help him climb stairs.
"I was lucky enough to find (veterinarian) Janice Huntingford at the Essex Animal Hospital," Lynda said. "She has worked wonders with Rapi with her underwater treadmill and other treatments."
Lynda said she's spent thousands of dollars for Rapi's treatment but doesn't regret any of it.
"He's given so much to our family that it wouldn't be right to do anything else," she said.
At 10-plus years, Rapi is approaching the end the breed's life expectancy.
"Most German Shepherds live in the 12-13 year range," she said. "Larger dogs tend to have a shorter life than smaller breeds."
The couple's love of dogs extended back decades to John's work with the OPP canine unit.
"John was the only canine officer in the area for a long time," she said.
The three police dogs John worked with were Judge, King and Niko.
"They were all wonderful animals and they all had different personalities," Lynda said said.
It's a shame the lifespan of pets isn't measured by how long they live, she added.
"Rapi is a wonderful dog, he has such a personality. When the day comes that he's in too much pain to continue, it will be a very difficult decision, but one that I'll have to make for him."