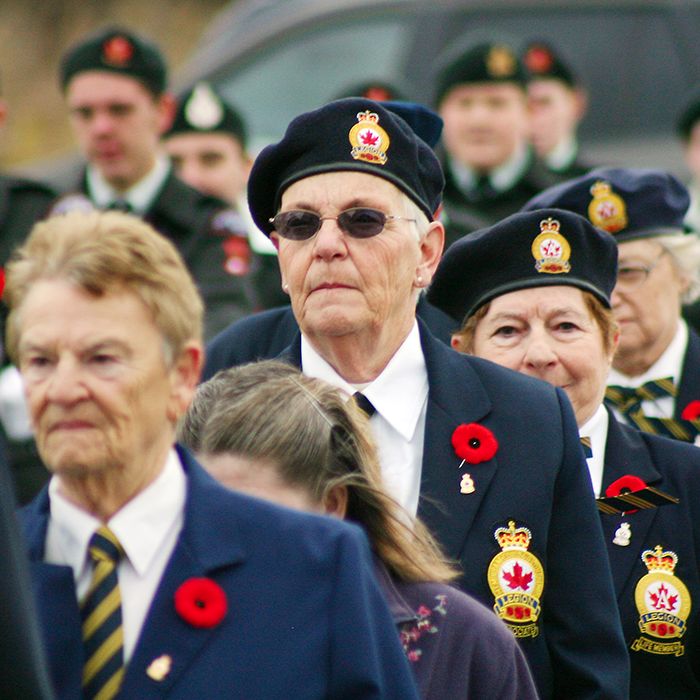 Applause filled the John D. Bradley Convention Centre as dozens of veterans in the room stood and were recognized by the 600-plus people in attendance for the annual Remembrance Day service in Chatham.
Among the veterans standing was Patrick McManus.
"Have you ever heard of the Royal Canadian Regiment," McManus said. "Well let me tell you something about the Royal Canadian Regiment. It's the oldest infantry regiment in Canada. We fought in Saskatchewan … they were in the First and Second World Wars and then Korea. They were in Afghanistan too."
McManus said each Nov. 11, he remembers his fallen comrades.
"I just try to remember the guys that got killed that I was friends with and were in our platoon," he said.
He added the poppy he wears on his chest makes him think about family members who served for their country.
"My brothers were in the Second World War," he said. "My wife's dad was in the First World War and he was a prisoner of war. He was a tough old guy."
Linda Heyninck, president of the Royal Canadian Legion Br. 28, said it is a day to remember the fallen soldiers and to wear a poppy – a red poppy.
"In the media, we always keep hearing things this time of year; this year it's the white poppy," she said. "They say it stands for peace. We say the red poppy, it stands for peace and freedom and remembrance. We shall never forget them."
Dave Van Kesteren, MP for Chatham-Kent-Essex, said the Chatham service is always special.
"I was told a number of years back that this is one of the few places in the Dominion that still does a service like we have here," he said. "I think we can all agree that this is something that is truly unique."
Chatham Coun. Derek Robertson said some of the words from the recent Peter Mansbridge presentation in Chatham touched him this Remembrance Day.
"Throughout his remarks he brought a message about what it is to be Canadian," he said. "He summed it up well, saying a Canadian is an individual who cares. Throughout our history we've had several opportunities to demonstrate this throughout the world."
More than 100 memorial wreaths were laid during the ceremony.