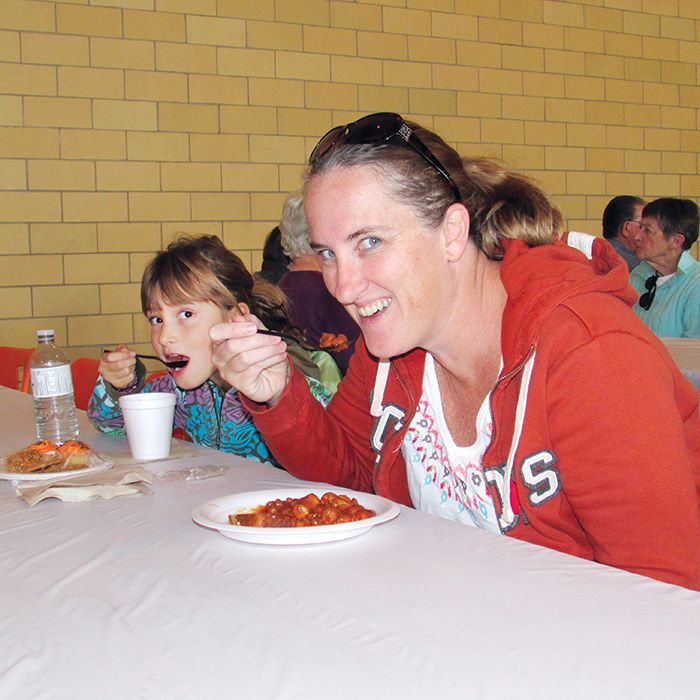 What's not to like about the annual Poor Boy Luncheon? You get a plate of wieners and beans (well, as many plates as you want, as it's all you can eat) and contribute to local charities.
The 35th annual event took place Oct. 25 at St. Joseph's Auditorium in Chatham, as usual. And, as usual, it was a busy place, with insurance company volunteers running hither and yon trying to keep up with the food demand from the hundreds of people who took part.
We slipped in just before noon, thinking we'd beat the rush. Nah. That rush likely began shortly after the doors opened at 11 a.m.
But the buffet format had us armed with a heaping plate of wieners and beans in no time.
And almost as quickly, our plates were empty. Not sure whose recipe is used for the Poor Boy, but as simple as that dish is, it was still very tasty. And filling.
Naturally, we had to bring an assortment of desserts back to the office, strictly for the rest of the staff. Honest.
The early estimate on funds raised at the Poor Boy is more than $12,000.
No word yet on how much methane got released in the municipality later that day, however.
 Cash Grab, for cancer battle
Toronto comedy troupe Cash Grab made a triumphant return to Wallaceburg on the weekend, raising money to fight women's cancers.
No word yet on how much money came in for the Saturday night show at the Jeanne Gordon Theatre in the Wallaceburg & District Museum. It wasn't heavily attended, as Halloween parties that night likely thinned the crowd somewhat, but those who made it left with sore bellies and crinkled faces from all the laughing.
The troupe includes Brandon Trainor, who grew up in Chatham-Kent.
The show featured a mix of sketch comedy and standup routines. It's not hard to see influences from the likes of Kids in the Hall and Monty Python, but Cash Grab brings its own brand of comedy to the stage.
If they come back in the future, they are well worth watching.