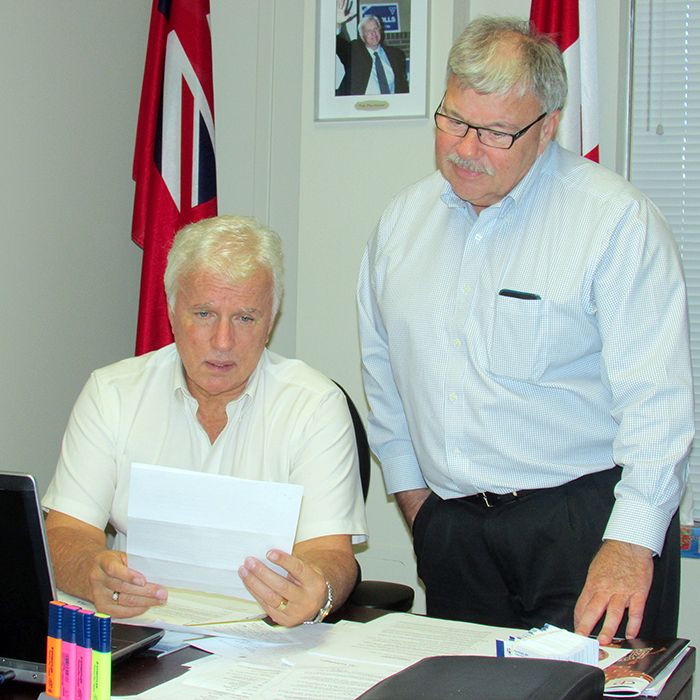 Government and small business are terms many people view as opposite in meaning, but not Chatham-Kent-Essex MPP Rick Nicholls.
"We operate our offices as if we're spending our own personal money and we believe it's our job to serve our customers," he said recently.
Nicholls, who owned a training and development company for 25 years before getting into politics, said the businesslike approach is in his nature.
"Constituents are customers, and I was elected to serve everyone in my riding, not just those who voted for me," he said. "And when you consider that I and everyone who works for me is a taxpayer, we really are spending our own money."
Nicholls' efforts were acknowledged earlier this year when The Legislative Assembly annual report on MPPs expenses listed him once again as being under budget.
His expenses were more than $63,000 under the Assembly's defined global budget of $275,000. It's the second year in a row he's earned that distinction.
"The global budget is what we could reasonably be expected to spend without any concerns, but we've found ways to do more than my predecessor and do it cheaply," he said. "We've opened a Leamington office in addition to our Chatham and Queen's Park locations."
Nicholls credits his executive assistant, Larry Landry, with keeping operations operating smoothly.
"We have three full- and two-part time staff, and Larry ensures we get full value for every hour staff works," he said. "We pay the same rent as this office did years ago and we look to economize, moving staff from one location to another whenever the work load dictates."
Part of the business-style philosophy of the office is a "customer service" form that constituents fill out.
"We're always asking for feedback. We know we can't solve every issue which comes before us, but it is our job to make sure the concerns are addressed," he said. "Unless we have at least a seven out of 10 on our satisfaction survey, we haven't done well enough. The vast majority of respondents rate us highly."
Landry said the office attempts to use local services wherever it can and treats each expenditure as a "must have" or a "nice to have.
"Rick's campaign was built on being accessible and accountable," Landry said. "It's my job to make sure the office lives up to that."