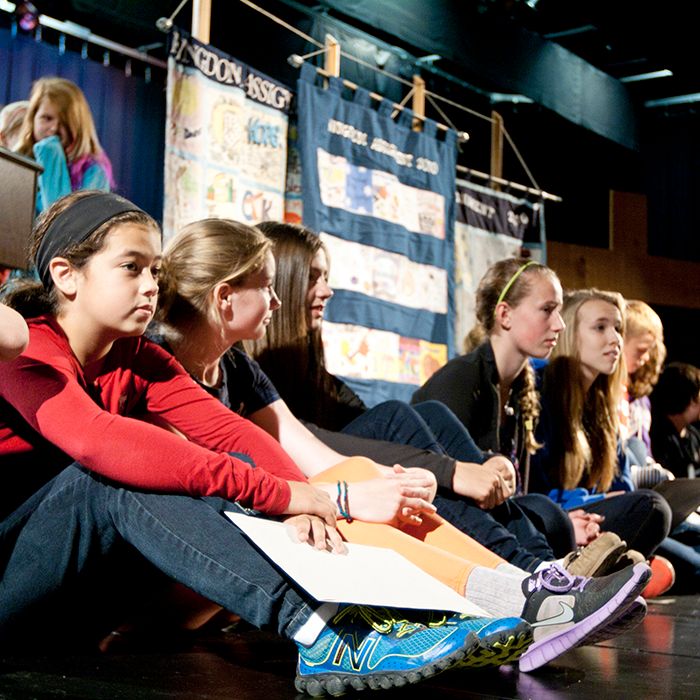 Lots of Grade 8's will have a plenty of work and brainstorming in the months to come as they try to decide what's the best way to raise money to help others.
Groups of kids and their teachers from 14 grade schools gathered this week at Ursuline College for the kickoff of the Kingdom Assignment, a fundraiser for the United Way of Chatham-Kent.
A crisp $100 bill was given out to each school group where they have the task of creating a plan to increase that initial amount several times over.
The assignment is based on a piece of the Scripture from the Gospel of Matthew, where three servants are entrusted with a sum of money by their master with each returning the sums to varying degrees of success.
On Jan. 16 next year, everyone will congregate in the same room to share the end results of their efforts.
With more than 80 students participating this year and running for the sixth year, UCC high school chaplain Margaret Palmer said the students get very creative, sometimes incorporating a Christmas or Halloween theme.
Palmer said this assignment is about more than just raising funds.
"They feel like they are doing something worthwhile," said Palmer of the students.
Palmer said the feeling they will get from creating a fuller life for others will last them a lifetime and hopefully encourage them to become active in the community as adults.
This year, 13-year-old Quinn Teague-Colfer and his classmates Sorcha Rountree and Alexandra Cavacas from Our Lady of Fatima Catholic School said they're not sure exactly what idea their group will use.
"We were thinking of doing a teacher karaoke," said Teague-Colfer.
"Movie days are always the best, and popcorn days," Cavacas added.
Teague-Colfer, who has done the assignment previously two years ago, said his last group did a number of activities to raise money, including a 50/50 raffle.
"I think we raised about $900 and we didn't spend any of the money," he said with a laugh.
With the support of the staff at this school, even the teachers get involved in out of the box ideas.
"There's a teacher who agreed to get taped to the wall, so we were thinking of selling a strip of duct tape for a dollar or something so that each of the kids can go up to tape the teacher," said Teague-Colfer.
Excited to get started, all three of the friends agree they have a common mission.
"We want to raise lots of money," said Rountree.
Teague-Colfer who said he is happy to do the assignment again, adding it was a great experience the last time. This year, he's bringing what he learned from the first time around.
"I learned that everyone has to really co-operate and try to do things that haven't been done before, so people get really excited about it and build up the hype," he said.
"Hopefully people will be excited to help us too," Rountree added.