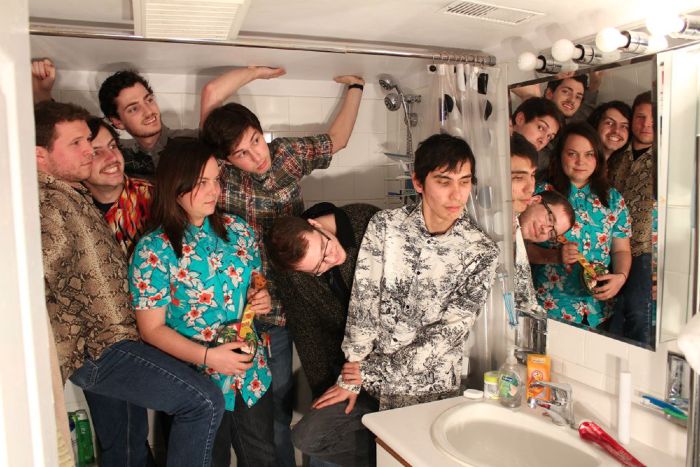 Having the dream of being a stand-up comic is one thing; being able to come back to your hometown as a comedian and make people laugh in front of family and friends – priceless.
Wallaceburg native Brandon Trainor knows that feeling well and is looking forward to his comedy sketch troupe, Cash Grab, returning to his hometown for a second time on Oct. 26 at the Von Ayers Cultural Centre at 505 King St. in Wallaceburg.
"The whole group is very excited to be returning to Wallaceburg for this show," Trainor said. "Last year's show was a success and we had a great time doing it. We were nervous about it but the audience was filled with people who are excited and enthusiastic about live comedy, so the show was a blast.
"This year we're coming with a lot more confidence, both in the audience and our material."
Trainor, a graduate of Ursuline College in Chatham, said Cash Grab represents a new and growing generation of Canadian comedy – comedians who actually studied comedy in college. The troupe met while enrolled in Humber College's Comedy: Writing and Performance program and have been performing together ever since.
Since graduating from the Toronto college in the spring of 2012, Cash Grab has seen its success take off. The troupe was nominated for the prestigious Tim Sims Encouragement Fund Award and was selected to compete in the Fresh Meat competition at Second City in Toronto.
Trainor said the group's biggest highlight to date was writing and performing with former Kids in the Hall star Dave Foley at the Humber Fresh Faces Show 2012.
Coming back home, Trainor and Cash Grab are the headline show to help raise funds for the Shoppers Drug Mart Weekend to End Women's Cancer. The comedian's mother, Delynne Marlatt, participates each year in the weekend walk as the associate owner of the Wallaceburg Shopper's Drug Mart. The comedy show is part of her fundraising efforts for the walk.
"It's a fun evening, raises funds to end cancer and I have the bonus of being able to see Brandon do what he loves to do," Marlatt said. "It makes me proud seeing him up there and giving back to the community. The whole group is so talented – this a show that should not be missed if you love to laugh."
Trainor enjoys working with the members of the troupe who complement each other very well.
"With Cash Grab, we've all grown as a group of performers since our last show in Wallaceburg. It's been a busy year for us. Recently we were in Milwaukee and Montreal for sketch festivals. Both were so much fun and I feel like we're more comfortable as a group because of them," Trainor explained.
"Doing regular shows has given every member of the troupe lots of opportunities to contribute. At this point, we're all familiar with each other so getting seven people together to work on an idea feels natural. We're lucky as a group that all of our members have stuck with it because everyone is important in making Cash Grab the best it can be."
The show starts at 9 p.m., doors open at 8 p.m. and tickets are $15 per person with a cash bar. Tickets are available at the Wallaceburg Shoppers Drug Mart or at The Chatham Voice office at 84 Dover St. The show contains adult content and is not for children under 18 years of age.