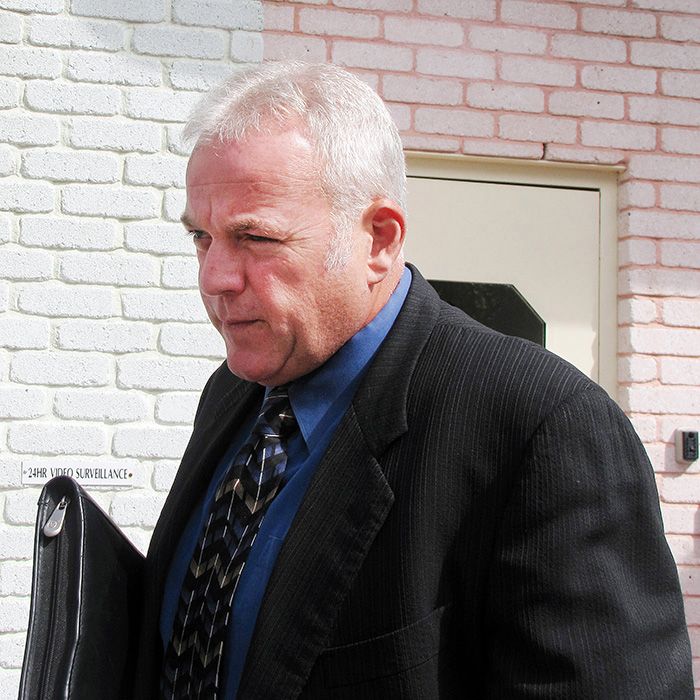 Chatham-Kent Police Const. Stan Blonde pleaded guilty to a charge of discreditable conduct at a Police Services Act hearing Sept. 23 in Chatham.
As a result, Robert Strathdee, a retired Toronto Police Superintendent, imposed a penalty that demotes Blonde to second-class constable from first-class for a period of four months.
During that time, he must also complete re-training for procedures related to domestic violence occurrences.
A second charge of neglect of duty was withdrawn.
The charges stemmed from an incident in February 2012 when Blonde, another officer and a social worker who was riding along with the officers responded to a call at a Chatham residence.
Paul Bailey, a former Crown Attorney, represented the Chatham-Kent Police Service at the hearing that was held in a conference room at the Retro Suites hotel. In reviewing the facts of the incident, Bailey said the victim complained that her partner had pulled her hair during a heated argument.
During the course of the police investigation, Bailey said Blonde explained the consequences of an arrest to the victim, such as the accused would have to spend a night in jail or a conviction could result in difficulties crossing the border.
According to Bailey, the officer "gave the victim the choice of whether the matter should be proceeded with or not" during the course of the investigation.
Bailey said the difficulty with Blonde's actions are that they are "40 years" out of date and do not follow the current police standards and policies for dealing with incidents of domestic violence.
"As a result of Iles-May and other inquests, the policing standards and policy standards have changed and they now embrace a mandatory charging policy," noted Bailey.
"That policy breathes life into the notion that the decision of whether or not to proceed with a criminal offence should not lay on the shoulders of the victim, who may well be under emotional duress, financial duress and so on. (It) breathes life into the notion that when a woman is assaulted in our community, it is a crime against the community; it is not a personal matter."
He referred to the 1998 inquest into the murder-suicide deaths of Arlene May and Randy Iles two years earlier in Collingwood Township.
After she expressed reluctance, Bailey noted the victim wanted the matter to proceed.
The man was charged with assault and later received a conditional discharge.
In recommending the sentence, Bailey cited the discussion Blonde had with assistant Crown attorney Heather McIntyre
"She indicated to me that she felt that this was really a training issue," said Bailey. "She wasn't left with the impression that Const. Blonde had deliberately with malice, decided to act contrary to policy. It was a case that it hadn't sunk in … the wisdom of this policy."
Bailey also noted that Const. Blonde's past record was taken into consideration for the penalty.
This was the fourth time Blonde was charged under the Police Services Act.
London lawyer Glen Donald, who represented Blonde, told reporters outside the hearing room that the case was about a violation of policy, nothing more.
"This was a police investigation that led to someone being charged with assault for that hair pull," said Donald. "They got a conditional discharge for it and a lot of time was spent on this prosecution, which was a technical breach of policy."
He added that Blonde wasn't trying to cut corners and noted the social worker who rode with the officers that day viewed Blonde's conduct as "professional" while dealing with the victim.
"This was an officer, again charged with responsibilities to enforce the Criminal Code and while he is so doing, he is also bound by a 14-page policy about how to handle these types of things, and in the course of a 55-minute investigation, discussions get had. And as part of those discussions, he did something that was a violation of policy," said Donald.
Deputy Police Chief Gary Conn, who was at the hearing, said the outcome was reasonable.
"It's an unfortunate set of circumstances, but certainly the officer has been held accountable for his actions – or inactions in this particular case – and hopefully Const. Blonde will learn from this and move forward from the result of this," said Conn.