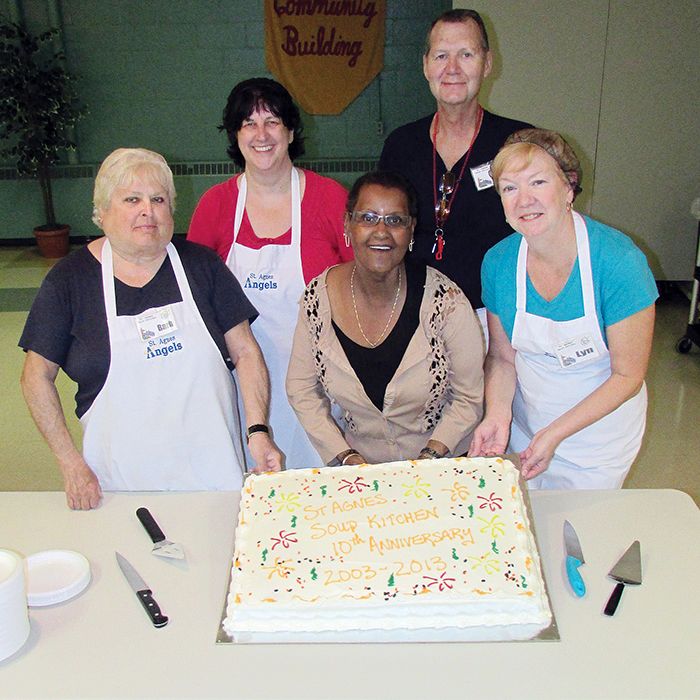 Ten years ago, the St. Agnes Community Soup Kitchen opened its doors, joining a group of faith communities who have made it their mission to provide a hot meal to people living in poverty in Chatham.
Marking the milestone, the committee and volunteers at St. Agnes organized a barbecue, complete with cake and ice cream as they began their tenth year. Started in response to a new awareness of the number of homeless and poor in the community, founding committee member Ethel Simmons said the soup kitchen was a collaborative effort of like-minded people.
"Who would have thought that ten years ago when a group of women gathered for a retreat and someone mentioned how many hungry there were in Chatham, that by the end of it, we would decide we were going to feed those people," Simmons said. "We had no money to start, but our church community rallied around us and we had our first soup kitchen Sept. 9, 2003."
Since then, the soup kitchen has grown from a small committee to a group of 65 volunteers who feed 60-100 people each Thursday from the church hall.
Modeled after the soup kitchen run by Praise Fellowship Church on Park Avenue East., the organization is still run by a small but dedicated committee who say they love what they do, supported by St. Agnes parishioners and several community donors.
Committee member John Rush said one of those donors is Investors Group in Chatham, who through their Community Partner Program, provide a trailer loaded with a barbecue, tank of propane, utensils and a tent for charitable groups who want to use it.
Rush said Gary Van Hooren, Investors Group branch manager in Chatham, set them up, and they make use of the barbecue at least a couple of times a year at the soup kitchen to provide hot dogs and hamburgers to their guests.
According to Van Hooren, the Community Partner trailer has been on the road since 2001.
"It is well-used and appreciated," said Van Hooren. "About 40 times a year, it is out between March and October and we keep renewing it every year. It makes life a little easier for charities to raise some money."
Since 2001, the barbecue has helped charities raise more than $300,000 locally.
Investors Group is an example of the community businesses and groups in Chatham who see a need, such as hunger and poverty, and do something to help.
Area schools have joined the ranks of the volunteers at the soup kitchen. Committee member Barb DeWaal said students from Monsignor Uyen and Ursuline College Life Skills class come out each week to help with set up and clean up.
Father Daniel Bombardier, pastor at St. Agnes Church, said the soup kitchen is a real sign of the kingdom of God at work.
"I am always humbled by the dedication of the volunteers of this important ministry of service – it is a mutual act of love and respect," Fr. Daniel said. "Our guests are welcomed into a safe, clean and friendly environment where they encounter the presence of Christ. Those who love the poor – like Jesus loved the poor – are inspiring examples for the rest of us."
St. Agnes is one of several local faith communities who offer a hot meal. A full listing of the meals offered each day in Chatham can be found in the Food Link Chatham-Kent food resource and meal calendar at letstalkfood-ck.com or on the Chatham Voice website at www.chathamvoice.com in the Life section.