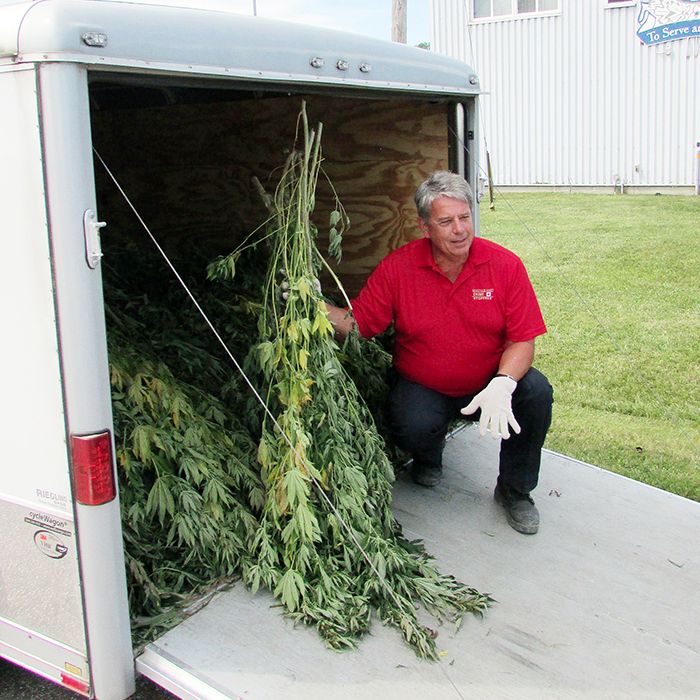 More than $400,000 in marijuana was on display today as Chatham-Kent police announced the results of recent enforcement efforts.
Const. Doug Goldsmith of Crime Stoppers said 440 plants with a street value of $1,000 each have been seized recently as the illegal crop reaches its maturity.
'This is the time of year we traditionally get the most plants because they've reached their full height and are most visible," he said.
The amount seized is larger than last year, but is significantly smaller than that of a few years ago when police were able to use RCMP helicopter surveillance.
"The helicopter was a tremendous asset because it can sweep an area in a grid pattern and communicate the location to officers on the ground," he said.
Neither the RCMP nor OPP helicopters were available this year.
"We considered using a private helicopter but the logistics didn't work out," Goldsmith said.
Const. Neal Iles of the Chatham-Kent Police Service drug unit said tips from area pilots and other citizens were responsible for the majority of the seizure.
He said most of the plants seized were growing alone or in small groups.
"Growers disguise the plants by planting them randomly or around legitimate crops but the size and smell of marijuana gives it away."
Iles said the CKPS will still follow up any tips received. "This doesn't represent the end of our efforts for this season. We're urging anyone with information to call Crime Stoppers at 1-800-222 TIPS."
Comments
comments