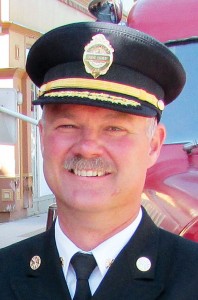 For Chatham-Kent's new fire chief Ken Stuebing, the perfect combination of family and career made choosing his new home an easy one.
Stuebing, who took up his duties Sept. 3, says Chatham-Kent has it all.
"We love the water, we love being closer to family in Kitchener and I love the challenge and opportunity provided here," he said.
Steubing, who succeeds Bob Crawford as chief, comes to Chatham-Kent from Winnipeg where he was deputy chief of professional development for the past five years.
Crawford will continue in his role as C-K's general manager of community development, with fire services oversight as part of his duties.
The fact that Chatham-Kent is an upper-tier municipality played an important role in Stuebing's interest.
As an upper-tier municipality, Chatham-Kent's fire service is responsible for EMS delivery, something that is close to Stuebing's heart.
"I was a paramedic in Ontario and Western Canada for five years and I realize how closely fire services and EMS work. The opportunity for enhancing our service to the public is tremendous."
His EMS experience includes time as a Critical Care Flight Paramedic on the Bandage 1 helicopter air ambulance service in Toronto.
Stuebing said the biggest challenge facing emergency services is to meet the need for high-quality service while meeting fiscal realities.
"Emergency services represent a significant portion of municipal budgets. We have to continually look for ways to deliver our service as efficiently as possible."
For the past year, Stuebing has held the position as secretary with the Canadian Association of Fire Chiefs, and currently serves on the executive committee.
Comments
comments