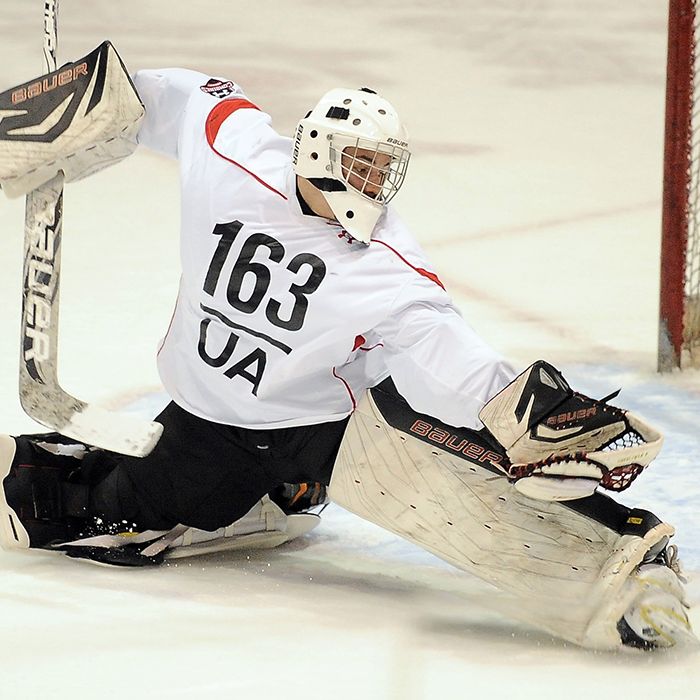 Brendan Johnston will be competing this month for a position with the Windsor Spitfires of the OHL. A fifth round draft pick of the team this season, Johnston impressed the organization during their mini-camp in early June.
"They all showed well at mini-camp," said Bob Boughner, head coach of the Windsor Spitfires about his team's top prospects. "The object at mini-camp is to familiarize themselves with the organization and make them feel comfortable so they come back in August to main camp and get the butterflies out."
That's just what Johnston, a student at Wallaceburg District Secondary School, and former Chatham-Kent Cyclones goaltender did, impressing team brass in the two mini-camp scrimmages.
"Johnston, I thought, was awesome yesterday," said Boughner after the first day of mini-camp. "He played very, very square to the net, there's going to be a battle. Battisti's in that battle, DeKort's in that battle, who knows about Pavelka, so it's a good healthy battle, but I think the future looks bright in that position," Boughner explained about the Windsor Spitfire's goaltending situation.
Johnston, who could find his way into the crease with the Chatham Maroons, or another local Junior B team this season if he doesn't stick in Windsor, is hoping to make the decision difficult for the Spitfires management.
"I'm hoping to show the Windsor Spitfires that even coming into the OHL as a 16-year-old, anything is possible," says Johnston. "I want to make it really hard on the coaching staff to send me back to Chatham."
The Windsor Spitfires, who finished second last in the OHL's Western Conference, missing the playoffs last season, split their goaltending duties between import Jaroslav Pavelka, and Jordan DeKort. Pavelka who handled the starting duties, ranked 16th in GAA and 13th in save percentage.
Despite the Spitfires struggles last season, Johnston will have a tough task sticking with Windsor, but says he is extremely proud to be a member of the organization, and to have the opportunity to compete at the OHL level.
"Its the most amazing feeling going up against the best hockey players for their age in Ontario," Johnston stated about the chance to play at the OHL level. "Representing the Spitfires is truly amazing, such an amazing organization. When I talk to old players they have nothing but good things to say and already just from my first camp, I only have good things to say."
If Johnston doesn't stick with the Spitfires, the young prospect will likely start the season with a GOJHL team, and see emergency duty with the Spitfires when they're in need of a goaltender.
Chatham's Drew Marlatt was also drafted by the Windsor Spitfires last spring, but missed mini-camp due to a shoulder injury.
The Windsor Spitfires Main Camp runs from Aug. 26 to Sept. 2.
Comments
comments