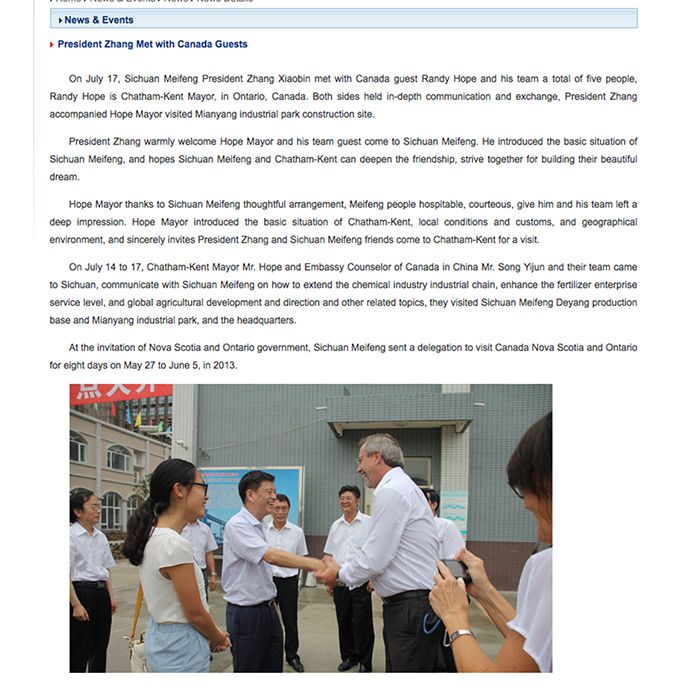 As Chatham-Kent officials remained quiet about their recent economic development visit to China, the Internet spoke differently.
A search conducted by The Chatham Voice revealed that the Sichuan Meifeng Chemical Industry Co.'s website showcased the Chatham-Kent July visit.
According to the company's website, "President Zhang Xiaobin met with Canada guest Randy Hope and his team, a total of five people. Randy Hope is Chatham-Kent mayor, in Ontario, Canada. Both sides held in-depth communication and exchange, President Zhang accompanied Mayor Hope, visited the Mianyang industrial park construction site."
The Sichuan Meifeng website also had half a dozen photos posted showing corporate representatives meeting with the Chatham-Kent delegation.
Meanwhile, Hope would not comment about Sichuan Meifeng or any of the other companies visited in July.
"We signed a non-disclosure agreement. We want to do things fairly low key and we respect their culture," he said.
The company website said Sichuan Meifeng is involved in "nitrogenous fertilizer with natural gas resources."
Hope would only speak in generalities about the recent trip.
"We were in China for nine days. It was very productive," he said. "One thing about each trip, we just add more value to everything we do. Because of our commitment, the word is spreading around China."
Hope said face-to-face meetings develop more opportunities.
"There's only so much you can do over the phone."
It was the second trip to China this year for Chatham-Kent officials, including Hope and Michael Burton, director of economic development and tourism. The first trip occurred in April.
One of the companies visited in April sent a representative to Chatham-Kent July 26, Hope said.
"A front person for one of the companies is here examining more detailed information," he said. "I feel very positive about the things that are going on. We are getting into issue specific opportunities. They're looking very fruitful, especially when companies start sending other people over to examine the opportunities."
Hope reiterated his belief in drumming up business abroad.
"There are emerging markets out there, from Germany to India, to China and South Korea. These are areas we need to be into because of the opportunities," he said.