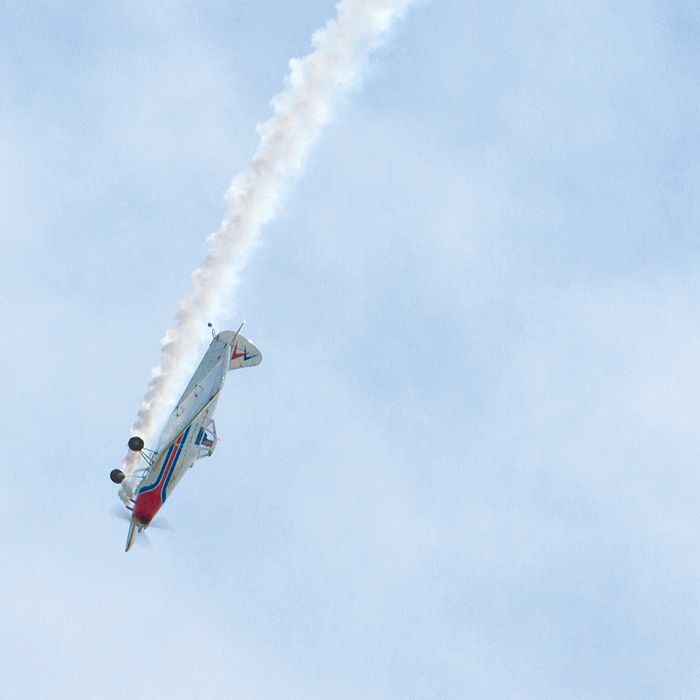 Chatham-Kent saw a powerful storm Friday evening, however by late Saturday morning, fliers had their model planes soaring in the blue sky at the Chatham Warbirds and Classics show.
The two-day weekend event held at the Chatham-Kent Municipal Airport, brought in full-scale aircraft in addition to the many model planes, which were exact replicas of their real-life counterparts.
Hosted by the Chatham Aeronauts Club, all ages of the community enjoyed watching the different types and sizes of planes.
Among the unique aircrafts were two white Piper Pawnee planes from the Burlington Radio Control Modelers club, which emitted white smoke during portions of their flight.
Flown by Karl Gross and Dave Cummings, the two displayed formation flying for the crowd as well as their level of skill.
"It takes a lot of practice," said Gross.
"And talking to one another," Cummings added.
The two first bought the models after they were just released by the manufacturer.
After agreeing to buy them together, they waited six months before receiving them in the fall.
"I said I would buy one if he bought one," said Cummings.
Deciding to build them over the winter, Cummings and Gross made a competition of it.
"Secretly we started putting these together very quickly without telling each other about it," said Cummings with a laugh.
Equipped with lights, the two Pawnee planes took between 50-60 hours to complete and are almost identical to each other.
The men's names are included on decals on the side of each plane as well as on the jackets of the small dolls dressed as pilots in the cockpit.
"We never get tired of flying these, because when you get close, you get scared and you don't want to wreck them," said Cummings.
One close call was when the two decided it might be good idea to start off their formation flight together with their smoke machines on.
"I couldn't see my plane until it finally got up in the air away from the smoke – we said we would never do that again," said Cummings.
For Gross, his interest in models started 56 years ago when he was only 8 years old.
Living in Austria, the young Gross saw a neighbour who was flying control line airplanes.
"I've been doing it since," said Gross.
After tours at his neighbour's shop, Gross started building his own gliders.
As for his flying partner Cummings, his story is very different – he entered the sport only seven years ago.
His grandson Dennis Fell, who was also at the event, was the reason Cummings developed such an interest in the planes.
"He had a model given to him as his birthday present and he said, 'Grandpa, you have to help me put this together,'" said Cummings.
The assembly of that one model turned into many more until Cummings decided he was going to learn how to radio control fly.
Today, the Burlington fliers plan to continue their hobby as long as they can.
"As long as I live," said Gross.
"We just have so much fun and everyone gets a real charge out of it," said Cummings.