For the second straight year, I spat on the road in Blenheim … and people cheered!
Yes, I was at the annual Blenheim Cherryfest Saturday, taking part in the celebrity pit spit.
And like last year, I didn't win. But I did spit a little further.
I almost didn't even make it there, as I was following up the Friday night storms for the paper. And as I drove to Blenheim, I came across yards that were now ponds, ditches that resembled swollen streams and creeks that had shared their overload of water with nearby fields.
Heck, I heard from two folks, the United Way's Karen Kirkwood-Whyte and Coun. Marjorie Crew, that they saw a herd of cattle standing up to their bellies in water in a field on Hwy. 40.
Distractions aside, we all made it to the signup in time.
We celebrities get to spit three cherry pits. Whoever spits one of those the farthest, is the winner.
The idea is to take all the cherry meat off the pit before spitting, then turn your tongue into a tube, and let fly with a blast of air.
I tend to get distracted when I bite into the first cherry. The Delhaven Orchards' offering is always so delicious. Next thing I know, as I'm enjoying the flavour, I realize the crowd must be getting impatient, so I head up to the line and open fire.
I left too much meat on that first pit. That affected aerodynamics and roll after impact.
I did a better job on my second pit, getting it pretty clean. The only problem was I had my tongue rolled up too tight. Gun jammed. The folks were looking to see how far my pit had gone when it was still in my mouth.
A wee bit embarrassing, but I quickly cleared the breech and tried again. It was my best spit ever, a distance of 8.52 metres.
On my final shot, I again cleaned off the pit, and let fly with a low-trajectory, hoping for a good roll. Instead, for some reason, it hit and rolled backwards.
I finished in the middle of the pack of this patchwork celebrity crew, comprised of folks such as radio jockeys Gary Patterson (last year's celeb champ), Chris McLeod and Dave Palmer; councillors Crew and Karen Herman, MP Dave Van Kesteren, municipal CAO Don Shropshire and the hilarious Mike Bennett.
Mike had never participated before and had a couple of tough spits to start. His third dribbled out, but Benny recovered, literally punting the pit down the street. For a pit, his punt had great hang time and it wasn't returned.
Mike and I spat early in the competition, which was fortunate, because up came former Olympic softball player Meaggan Pettipiece who blew away the rest of us, topping 13 metres.
Nobody wanted to go next, so, naturally, when the emcee wondered who could follow that tough act, I piped up, "Chris McLeod," hoping to put pressure on the spit rookie.
So up he went, and, while two of his spits were the pits, the third was a rocket, travelling 15.89 metres, good enough to take over the lead. Chris, bowing and playing to the crowd, wound up taking first place, with Meaggan placing second, and Shropshire third.
Not even the venerable Joe Lessard, former world champ, could top McLeod, although it looked like Lessard was driving his pits into the ground rather than going for distance, giving the rest of us a break.
Overall, it was another fun event in Chatham-Kent.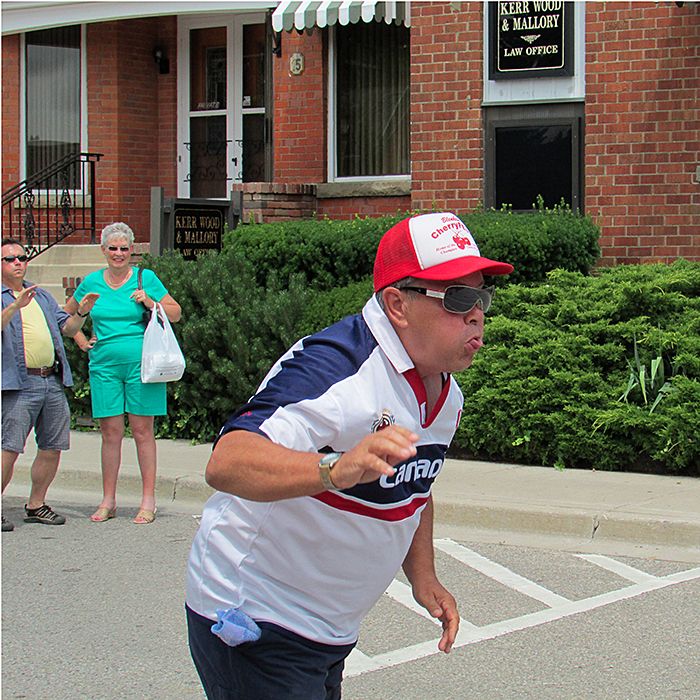 Powerplay
Kudos to the Entegrus and Bluewater Power crews that worked around Chatham-Kent Friday night and Saturday to get the power back on after the nasty storms wreaked havoc.
With lines down on Victoria Avenue and half-dozen hydro poles dropped in Blenheim, plus numerous other outage areas around the municipality, these folks were hopping.
And in all that rain, the storm sewer at the end of our driveway, which drains about as fast as a bathtub with a hair clog, couldn't come close to keeping up. Add to that the fact the wind ripped leaves out of nearby trees, and there's a recipe for a mess.
I went out in the middle of the first storm Friday night to make sure the drains on each side of our street were open – nothing quite like a guy in a Mickey Mouse/Disney World rain poncho sporting a garden rake to leave passersby confused.
As storm after storm came through overnight, I got up at 4:30 a.m. to see the street looking like a canal.
Back out I went, rake in hand. At least the drain on the other side of the street works well, when it's clear of debris.
Had someone taken a picture at that early hour, it could have been named Canadian Gothic. Instead of a pitchfork in the classic American Gothic painting, I had the rake. And instead of a coat, well, I had my Mickey poncho …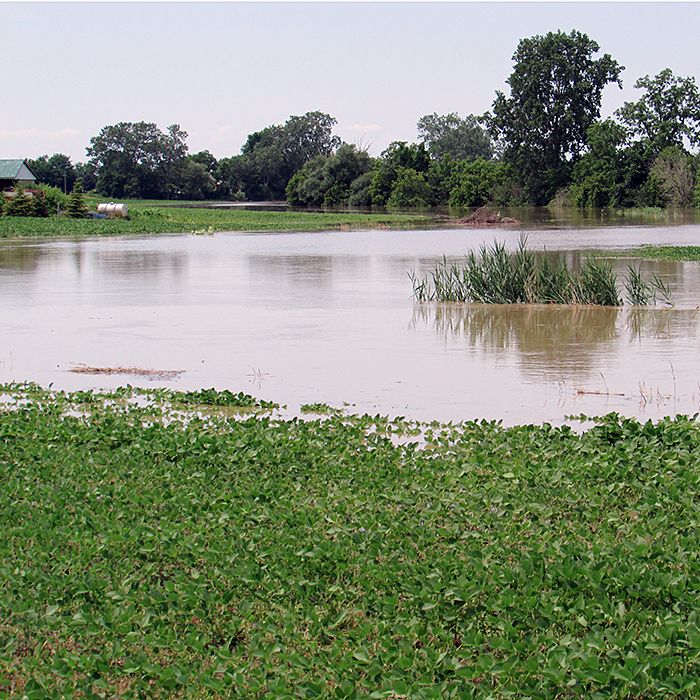 • Bruce Corcoran is the editor of The Chatham Voice. Contact the writer at bruce@chathamvoice.com
Comments
comments