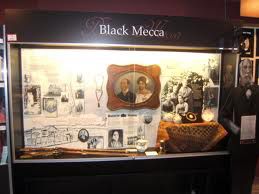 The Chatham-Kent Black Mecca Museum is getting the core grant they were accustomed to receiving after all.
Despite being left off the initial list recommended by staff, Chatham Coun. Derek Robertson entered a successful motion to have the $34,022 recommended to be allocated to ARTspace and have it given to the museum. ARTspace funding was referred to the 2014 budget.
Blair Newby, the executive director of the museum, was thrilled with the outcome.
"I am so pleased council has decided to continue our funding," she said. "We were a bit apprehensive coming in. We're just ecstatic the funding will continue so the history can be preserved as it should be."
Chatham Coun. Marjorie Crew said council was faced with a "dilemma" with this decision.
"It was a strong challenge, very hard," she said. "There are a lot of people that support ARTspace … this is not a vote against ARTspace."
The museum has been included in this year's budget for $30,000, which would cover its operation. The grant, which has been received the past fours years, goes towards paying a full-time employee.
CAO Don Shropshire said staff is working hard at finding a funding alternative for ARTspace.
"We are banging our heads together to find an answer," he said.
Bob Crawford, general manager of community development, said staff will provide a report to council on the issue.
Overall, a total of eight projects were approved for funding, totalling $378,530.