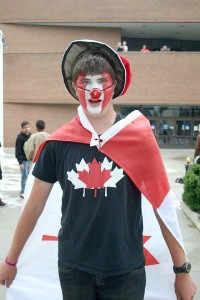 By Aaron Hall
Contributing Writer
Despite scattered showers falling throughout the day, the Canada D'eh event in Chatham still drew thousands to the downtown core.
Jeanette Smith, coordinator for the Canada D'eh committee, said she estimates anywhere from 10,000 to 15,000 came through Tecumseh Park.
"There is lots of people, lots of food, lots of noise and lots of things to do," she said. "Apart from the rain, it has been a success."
Smith said she is proud of the hard work put in by the volunteers.
"It's hectic, it's crazy but when you stand here and look around, you see all these people," she said. "My volunteers and my committee did this. The whole event is put on by volunteers. We have a committee that volunteers throughout the year, and other volunteers that help out the day of picking up garbage, cleaning up, that sort of thing."
King Street was lined up on both sides downtown during the annual parade and Tecumseh Park was jam packed with a host of food vendors and activities for the kids, including: face painting, a bouncing castle, games and even a gigantic game of Jenga.
TV Cogeco sponsored the musical entertainment, which featured a number of local bands. Chatham's own Brooklyn Roebuck was the headlining act and took the stage at 8 p.m.
Fireworks capped off the evening.
Comments
comments