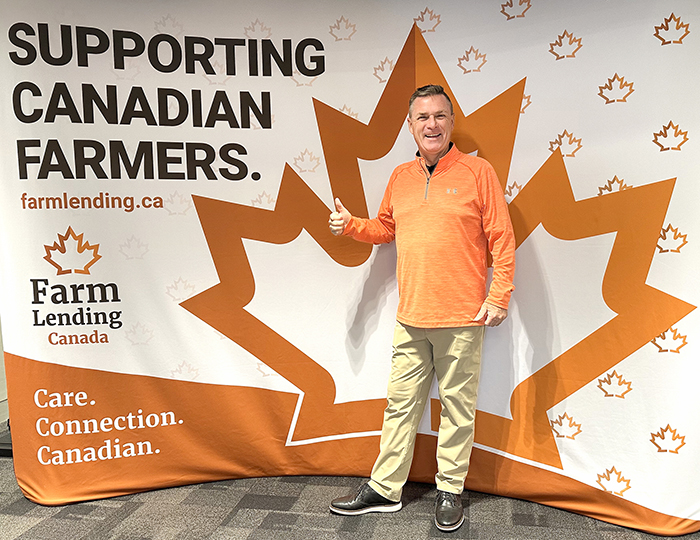 In a rebranding and expansion of operations, Farm Lending Canada is the outcome of the merging of AgriRoots Capital Management Inc. and FamilyLending.ca.
And it is all run out of Chatham.
Farm Lending Canada is dedicated to supporting the backbone of Canadian agriculture by offering specialized financial products designed to meet the unique needs and challenges faced by farmers across the country, according to company officials.
The company offers multiple products and solutions that are tailored to the circumstances of each farmer, providing them with the flexibility and support necessary to thrive in an ever-changing agricultural landscape.
Robb Nelson, CEO of Farm Lending Canada, said the new brand has been in operation since Sept. 1. What Family Lending and AgriRoots offered prior remain in place.
"Family Lending is there, in a quieter way. Farm Lending is the general brand; inside that we have residential mortages," he explained. "And AgriRoots is inside Farm Lending as well.
"We offer residential products. We offer rural residential products such as hobby farms. We can provide financing to farm operations and also offer alternative financing for the agricultural sector."
The alternative financing was the specialty of AgriRoots; providing bridge financing for short term needs for agricultural operations. Now, Farm Lending offers longer term financing options, as well as continuing to work with other lenders.
"We're allies with all the AAA lenders. We're not competitors," Nelson said. "We have a lot of them send us part of a client's file. They may lend on 80 per cent of the file, but the farm may need additional capital to purchase property. That's where we come in."
For most clients in the ag sector, the goal is to provide short-term financial solutions and then transition the client back to their original lender, Nelson said.
"We're very short-term lenders. Sixty per cent of our portfolio transitions back to mainstream lending every year," he said.
But Farm Lending is there to help in other ways.
"We had interest in setting up a purely agricultural debt fund. Now, we're seeing as both Family Lending and AgriRoots matured, it was time to be a mortgage originator," Nelson said.
He added that about 20 per cent of farmers each year fall into the Farm Lending Canada wheelhouse.
"There's $150 billion of debt and 20 per cent of it needs flex capital," Nelson said. "We offer 'smart' capital. We're here to help."
New vet clinic for 'Burg
A new veterinary clinic is coming to Wallaceburg.
At a recent planning meeting, Chatham-Kent council approved a zoning change, paving the way for Myslik Veterinary Professional Services to set up shop at the site of the former D.S. Walkers Jewellers.
Located on the community's east side, the location offers on-site parking and is in close proximity to the downtown area.
LUVLOCAL supports shopping in C-K
LUVLOCAL is launching in Chatham-Kent with the desire to transform local commerce and make shopping local in C-K easy for residents and businesses.
LUVLOCAL is a platform built to help create a level playing field for local producers and artisans who want to sell their products to residents in every corner of the community.
The first of its kind, LUVLOCAL is a digital and e-commerce solution that allows local businesses to have their products purchased online 24/7 and then delivered to customer's doorsteps across the community.
The group behind LUVLOCAL has a deep history of helping support the Chatham-Kent community. The group also has extensive experience in developing complex e-commerce platforms, building globally recognized brands, and doing marketing for provincial, national, and international organizations.
Chatham resident James Rasmussen, a 20-year veteran in strategy, marketing, and advertising, is one of the founders and believes LUVLOCAL will make shopping locally simple for businesses and consumers and can be a powerful economic force.
Another founder of LUVLOCAL, Moréna McDonald, who's spent her career helping small businesses in Chatham-Kent, believes that the project is a culmination of all she has learned supporting C-K businesses.
Lisa Roberts, a professionally trained pastry and culinary chef with international experience couldn't be more excited to be part of the LUVLOCAL launch.
"I've been thinking for years about how to grow and scale my business, then suddenly LUVLOCAL shows up and makes my business dreams and goals a complete reality," Roberts said in a media release.
LUVLOCAL is now open for local businesses to join and to get ready for a community-wide launch on Nov. 15. The organization is waiving all start-up fees – no cost for product photography, no cost for website setup and no cost for e-commerce setup.
Business Voice is a bi-monthly column in The Chatham Voice that highlights some of the achievements made and efforts underway in Chatham-Kent's business community. Send your information to bruce@chathamvoice.com.