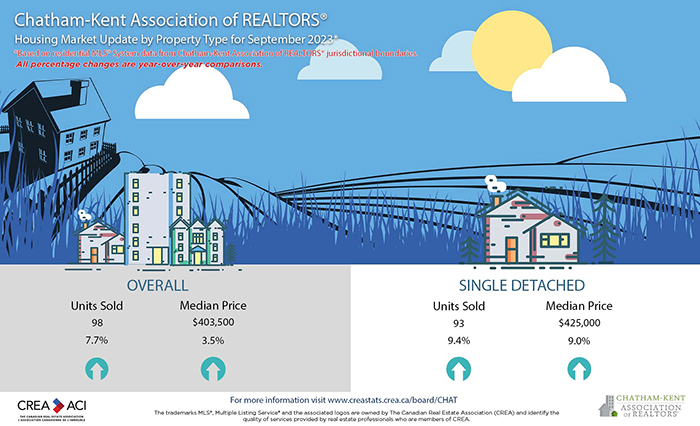 For the second straight month, home sales in Chatham-Kent rose in September.
Following a modest 3.4-per-cent gain in August, sales rose by nearly eight per cent in September, up seven sales from the same month of 2022.
Despite the rise, home sales were more than 20 per cent below the five-year average for sales in September in Chatham-Kent. They were down by 17.6 per cent compared to the past 10 years.
Matt Bechard, president of the Chatham-Kent Association of Realtors (CKAR), said inventory levels are dipping as prices have levelled off.
"New listings appear to have topped out and are slowly trending downward. Combined with stronger sales, this means that overall inventories are also topping out and have started to come down from their recent peak," he said in a media release. "On the price side we're still down from last year's astronomical records but otherwise average price levels have been holding up fairly well."
The average price of a home sold in September sat at $431,471, down slightly (0.5 per cent) from the same period last year.
The more comprehensive year-to-date average price was $433,164, down by 9.4 per cent from the first nine months of 2022. 
The dollar value of all home sales in September 2023 was $42.3 million, an increase of 7.1 per cent from the same month in 2022.
The number of new listings saw a slight reduction of one listing from September 2022. There were 194 new residential listings in September 2023. New listings were five per cent above the five-year average.