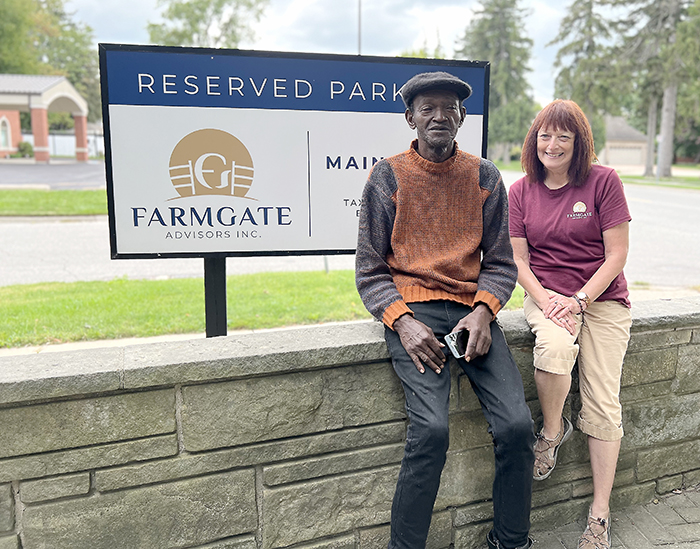 By Pam Wright
Local Journalism Initiative Reporter
Pixley Gaynor has a simple philosophy for life.
"Hard work doesn't hurt anyone," he said. "Put in the time, follow the guidelines, get proper rest and food, and you can't be wrong. It's as simple as that."
The Jamaican citizen, a seasonal worker in Canada for the past 32 years, knows of what he speaks. He's been working at the Conagra's Dresden canning plant for the last 28 years.
The 69-year-old was among the nearly 100 Jamaican workers honoured last month at the first annual Guest Worker Appreciation Day held in Dresden.
Around 100 workers live in the work camp, adjacent to the plant, where they toil seven days a week.
Gaynor, affectionally known as "the mayor" on the job, knows the Conagra canning process inside and out and is often looked at as mentor for younger workers who come work from his Caribbean homeland.
"I know all the jobs," he told The Voice in a recent interview, noting he has a good relationship with supervisors at the facility and is able help out by showing younger workers the ropes.
"It's a family, a team thing," he said. "When a person is out of line, you are able to correct them. You don't need to go to the manager because you can speak to the guys as we're all Jamaicans.
"If you co-operate, it will surprise you," he added. "You will get very, very far. Work becomes very easy."
He said there are many aspects of Canadian life that are different for Jamaican workers, including simple things such as riding bikes. Jamaican vehicle traffic uses the British system, driving opposite to the way it's done in Canada.
According to Gaynor, he has become fond of the quiet and clean town of Dresden and he feels like part of the community.
"I love it here," he said of his tomato run job and part-time home.
Gaynor, who owns a home in St. Catherine Parish in Central Jamaica, has two daughters, Kimoy and Sidonie, and one grandson Tadison. Gaynor turns 70 next May, so he's not sure he'll be able to come back next year under the current rules.
All season workers must undergo an extensive medical before they are approved to come to Canada, Gaynor said, noting he passed this year's exam with flying colours.
"But I'm not bragging," the affable Gaynor joked, adding he was told by his Jamaican doctors to "keep doing what's he doing" when it comes to his physical health.
However, Gaynor said his good health is not up to him – it's the man upstairs that keeps him healthy.
"He takes very good care of me," he stated. "You better believe it. He's really taken care of me."
According to the 2021 data from Statistics Canada, the Canadian Temporary Foreign Worker program welcomes citizens from various counties to Canada annually, with a large portion coming from Jamaica and Mexico. Officials said those workers play an integral role in Canada's food chain by supplying much-needed labour.
It's estimated that between 50,000 to 60,000 offshore workers come to Canada each year to work in the agriculture sector.