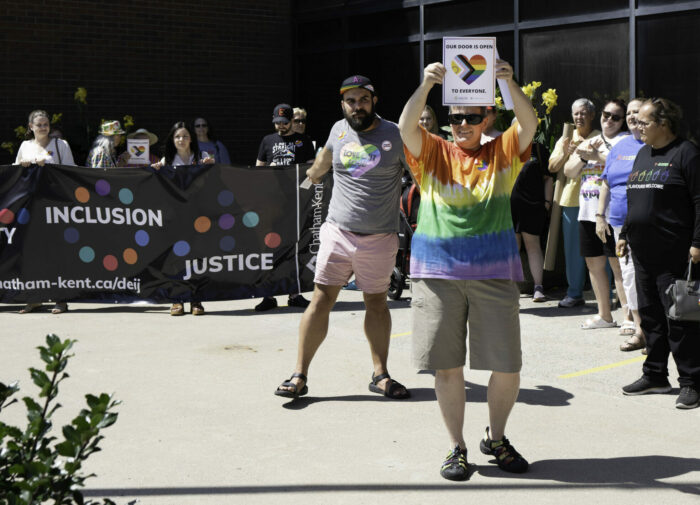 A full slate of activities for CK Pride Week kicked off Friday with a flag raising ceremony at the Chatham-Kent Civic Centre. 
Here, Chatham-Kent Gay Pride Association president Marianne Willson displays one of the signs the group developed in collaboration with the Municipality of Chatham-Kent which states "Our Door is Open to Everyone." 
A thousand signs were created and are being distributed to residents free of charge. 
The municipality has come forward with a unity statement show its support and unity with the CKGPA to foster inclusive spaces that honour the lived experiences, histories and perspectives of the 2SLGTBQIA+ communities, while taking a stand against transphobia and homophobia. It reads: "We firmly believe that when individuals and families are treated with respect, provided with a sense of safety, and given opportunities to contribute authentically to their workplace and communities, they thrive. Together, we strive for a more inclusive and accepting society." 
The CK Pride Parade takes place Saturday beginning at 11 a.m. at the CK Civic Centre followed by Pride Fest activities at Sons of Kent from noon to 3 p.m.