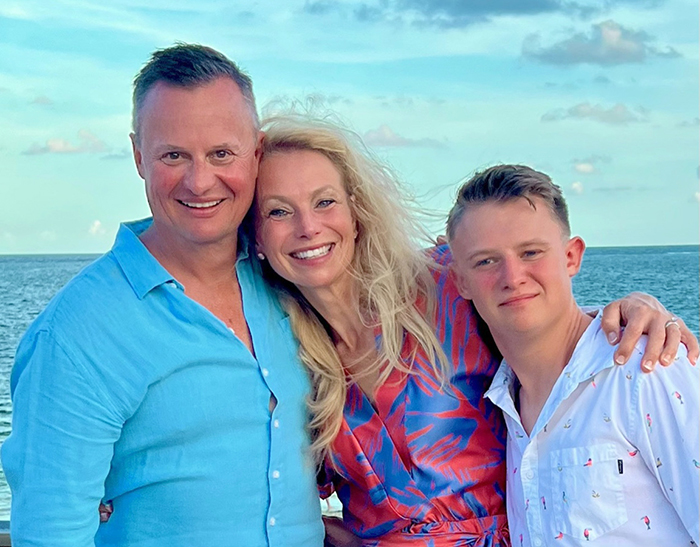 Mike and Paula Grail step back from treatment centre boards
After close to two decades each volunteering in different capacities with the Children's Treatment Centre, the Grails are taking a step back.
Paula and Mike Grail are "just going to take a breath," Mike told The Voice recently.
They've earned it. Paula started on the board of directors for the Children's Treatment Centre of Chatham-Kent (CTCCK) 19 years ago, while Mike initiated and chaired the CTCCK's Foundation board about 18 years ago.
Their commitment originated in large part due to one special child – their son.
Carson was born with multiple challenges and benefitted from the services of CTCCK over the years.
However, the Grails, prior to having Carson, had no idea the centre existed.
"We didn't know about the place before we had our son," Mike recalled. "But understanding the challenges we had with our son, and getting him to the centre – we found the centre offered some amazing services and the people were also amazing."
Paula's interest in becoming part of the board began shortly thereafter.
"For me, I was a parent and I was spending a lot of time at the centre just sitting in the lobby. I thought perhaps I could help contribute on the board and bring forward a little bit of my knowledge and experience," Paula said. She and Mike own a number of Tim Hortons outlets in Chatham-Kent.
Paula served nine years on the board, took a one-year hiatus, and served another nine.
As for Mike, he said the need for additional funding for the centre was obvious.
"I started looking into creating the foundation. That was about 18 years ago," he said. "We saw what they could do for children. We thought if they had some added funding and more leadership, we could possibly help more kids."
For Paula, leading the CTCCK board as chair was one thing, but for six years, she also chaired the Ontario board that oversaw all 21 children's treatment centres in the province.
"She literally helped raise hundreds of millions of dollars for the children's treatment centres to continue services and get kids off their waiting lists," Mike said.
"That was quite the honour to be able to do that," Paula added. "It gave me a provincial perspective, showing the different needs. For instance, at the centre in Timmins, therapists have to take a flight to go see clients. It sure opened my eyes."
Donna Litwin-Makey, executive director of the CTCCK, has worked closely with both Grails over the years. She said they will be missed.
"Paula has a quiet resolve, but she's very passionate and really cares about our kids," she said. "Her work ethic…what a role model. She's worked so hard on behalf of all families."
Litwin-Makey said when Mike Grail approached her about starting the foundation, she was impressed with the vision.
"I was so awesomely surprised. We problem solved and were so fortunate to have an independent foundation," she said. "Mike's always had a vision and puts a lot of skin and sweat into the game."
Mike Genge, the president of the Foundation of the CTCCK, said he thinks Mike and Paula have been top-shelf chairs over the years for both boards.
"They had the foresight to say our kids are important," he said. "What really inspired Mike and Paula to do this was their son. They had a son that had a situation. They knew the Children's Treatment Centre was there to help them, but they looked around and thought, 'There's got to be more, and we need to make it more.'"
Over the years, and with all the volunteer hours put into both boards, the Grails say they have no regrets.
"The only regret is saying goodbye. But it's the end of a pretty significant chapter in our lives," Paula said. "You know it's the right thing to do. You need to have a new outlook on things, and new thoughts. The younger generations think differently than the older generations."
Mike said he has stepped away from the foundation knowing it's in good hands.
"This was the one thing I was hoping for when I created the foundation was that there would be sustainability and there would be an action plan after me," he said. "The worst leadership is being that leader who (thinks they) know everything, and everyone else just sits in the wings waiting to be told what to do."
Kevin Owen has succeeded Mike as head of the foundation board.
Mike added the Foundation's executive team – Mike Genge, Lisa Caron and Erin Genge – are "a phenomenal group that runs the foundation.
"I've never worked with anyone better who can do events and fundraise and how people who are donating the reasons why and to feel good about donating," he said. "They have been the secret to the Foundation's growth and success."
The Grails step aside knowing the 55,000-square-foot new building is within sight. It's in the hands of the provincial government at this point.
"It all comes down to how we are helping our kids in Chatham-Kent. That's what Paula and I are going to remember the most," Mike said.