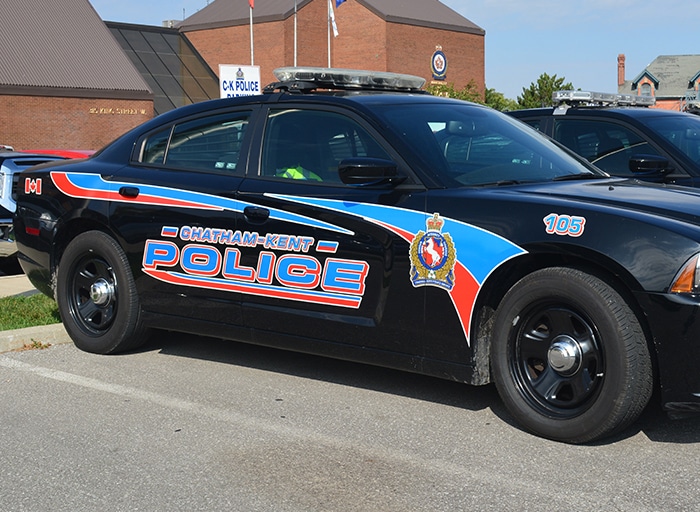 Smack to the face leads to charges
Chatham-Kent police charged a Wallaceburg man with assault Monday afternoon following an altercation.
Police responded to Thomas Avenue in Wallaceburg for an assault investigation about 5 p.m. Officers learned a dispute occurred between two people. The argument escalated when the man struck the victim in the face.
A 57-year-old Wallaceburg man was located and arrested. He was transported to police headquarters and charged with assault.
Missed court date = charges
Failing to comply with several orders resulted in an additional arrest and some time behind bars for a Chatham man recently.
On Monday afternoon, about 4:45 p.m., an officer located the man on James Street in Blenheim while on general patrol.
The officer confirmed the man was wanted on an outstanding warrant, and he was arrested.
The man was wanted for failing to attend court related to failing to comply with a release order, a probation order, and assault charges.
A 38-year-old Chatham man was charged with failing to attend court. He was transported to police headquarters and held pending a bail hearing.
Bail violations 
A Chatham man faces charges for going for a walk…where police say he was not supposed to be.
Officers learned the man was bound by a condition not to go within 25 metres of another man's residence, workplace or school.
But police say the man broke this condition by walking by the other man's home. A warrant was issued for his arrest.
On Monday morning, police say the man showed up at headquarters and turned himself in.
A 45-year-old Chatham man was arrested and charged with failing to comply with an undertaking.
Shoplifting charges
A Chatham woman has to answer to charges following a shoplifting incident Monday evening at a St. Clair Street business in Chatham.
Police say the woman was observed concealing merchandise and attempting to leave the store without paying for the items. Police confirmed the woman was wanted on an outstanding warrant for another theft investigation from March 3.
A 38-year-old Chatham woman was arrested and charged with two counts of theft and two counts of possessing stolen property.