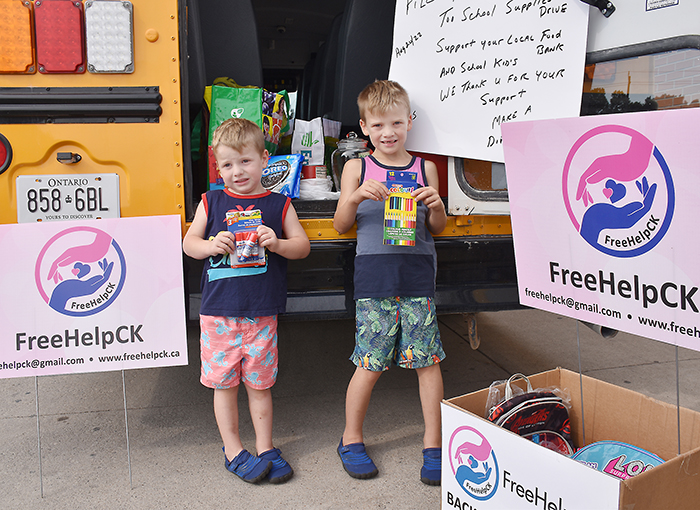 Fill a bus or a U-Haul, it doesn't matter to the people at CK Helping Hands.
The organization, which has for several years held May and August events seeking donations to help those in need, is back in action with its Fill the Bus initiative May 27.
In locations across Chatham-Kent, the group, which is comprised of five community-based organizations, will have school buses parked and waiting for donations of non-perishable food items.
Tim Haskell, one of the event organizers, said this year also sees the Rims and Ribs event in downtown Chatham holding a Fill the U-Haul endeavour, where from May 26-28, people can drop off non-perishables as well.
"It's not a matter of who is doing it as long as it's getting done," he said, adding that CK Helping Hands will be offering assistance to the Fill the U-Haul event. "Mostly, we want to fill up the food banks and get them ready for the summer and get some food in the pantries for them."
Each community in which the items are collected will see those items wind up on the shelves of their particular food banks, Haskell said. In Chatham, the collected items will go to Outreach for Hunger.
Buses will be parked outside Real Canadian Superstore, Food Basics/Dollar Tree, No Frills, Giant Tiger and Sobey's in Chatham between 8 a.m. and 2 p.m. and volunteers will be on hand to accept any donations.
Fill the Bus began aiding people in Chatham, Tilbury, Wallaceburg and Dresden, but has expanded to Ridgetown this year. Haskell said volunteers have a similar program in the Blenheim area, so Helping Hands did not want to intrude.
Fill the Bus returns Aug. 12, with a focus on school supplies and snacks.
Haskell said FreeHelpCK is also doing a backpack program that Helping Hands will aid by collecting the supplies for the backpacks.
CK Helping hands is comprised of volunteers from the Chatham Goodfellows, R.O.C.K. Missions, FreeHelpCK, CK Giving Hearts and Chatham Outreach for Hunger.