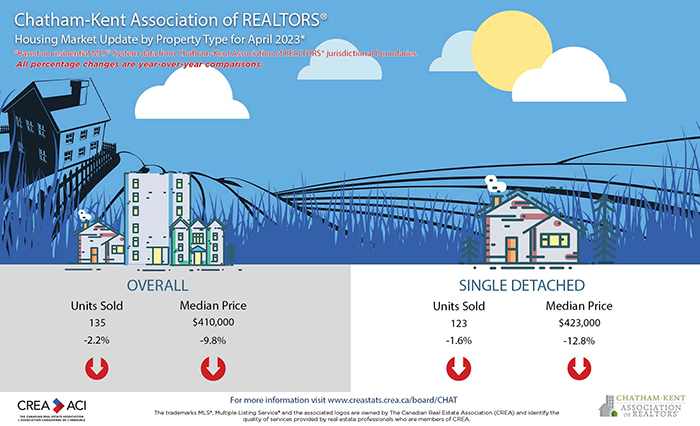 The drop off in home sales in Chatham-Kent may have stabilized.

In April, Chatham-Kent Association of Realtors (CKAR) stats indicate 135 units changed hands, down just three sales from the same month in 2022.

More telling, home sales were 10.3 per cent above the five-year average and 10.6 per cent atop the 10-year average for April sales.

Matt Bechard, president of CKAR, sees the market in rebound.

"In a very short amount of time home sales have turned a corner and have rebounded to above-average levels. In fact, sales activity in April notched one of the best levels for this month in history," he said in a media release. "The rebound in sales has occurred despite a lack of new listings coming to the market. This has had the effect of putting a stop to the rise in the overall stock of listings on the market, tightening the balance back in favour of sellers, and causing stronger price growth."

New listings in April were down slighting from the same month last year, by 6.4 per cent. They were still nearly eight per cent ahead of the five-year average, however.

Active residential listings numbered 308 units on the market at the end of April, more than double the levels from a year earlier.
On a year-to-date basis, home sales totalled 356 units over the first four months of the year. This was a decline of nearly 30 per cent from the same period in 2022.
The average price of homes sold in April 2023 was $437,270, a decline of 12.4 per cent from April 2022.