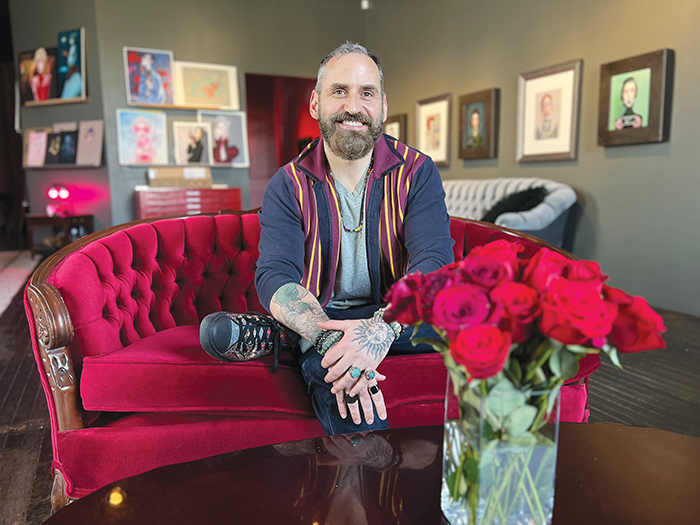 By Pam Wright
Local Journalism Initiative Reporter
Troy Brooks' move to Wallaceburg can be described as either the stars aligning or coincidence.
Depending on your perception.
In 2018, the internationally acclaimed artist and his partner decided they wanted to buy some real estate. The wish list for their new home included a New York style loft, studio space and an affordable price.
Ironically, the Kent County native found an MLS listing with a 519 area code with everything he wanted. In a surprise twist, he found out the property was just down the street from his father's house on Wallace Street in Wallaceburg.
"I thought it was hysterical," Brooks said, adding he had assumed he would end up in either Toronto, Vancouver or Montreal.
"This property was spectacular and perfect for me," Brooks explained, adding that when he sent his dad Morris to go and inspect it, his father's immediate advice was "buy it."
So, the pop surrealist artist – whose work shows in galleries around the globe as far afield as Paris, London, Berlin, New York and Los Angeles – did just that and hasn't looked back.
"It doesn't matter where I live as long as I love the space I live in," Brooks said, noting he was used to tiny spaces in the city." The most important space is my workspace because I'm spending 13 to 14 hours a day in there."
The space has historical significance as a former Bank of Montreal and is one of the oldest commercial buildings in Wallaceburg.
A full-time artist since 2009, Brooks specializes in painting women, something he cultivated as a young gay man.
The theme appealed to him.
"Women are my protagonists," he explained, adding it was a safe way to express his sexuality in his youth – something that was forbidden in society at the time.
"I drew pictures of women," Brooks said. "I related so much more to women, so the safe way I acted out was I drew these pictures of dynamic women.
"These were women who held power and were in positions of power that I was interested in because that was a fantasy to me."
Brooks said he tried out other methods of creating art, thinking no one would be interested in his pictures of women, but he didn't find success. However, a nudge from his sister brought him back to his passion.
The rest is history.
Brooks discovered other pop surrealists such as Lori Earley and Ray Caesar and settled into his artistic calling.
"Suddenly I got a show without even trying," he said.
Brooks, who grew up in Chatham, spent 30 years in Toronto before returning to Chatham-Kent.
As for small town living, he said there's plenty to like here with wide open spaces, no-line-ups and lots of parking.
Another benefit, Brooks said, is a lack of distractions.
"It's good because I can just put my head down and get to work," he said.
Those who want to get a look at Brooks' paintings will be able to do so on May 6 and 7 on the self-guided inaugural Chatham-Kent Arts and Culture Network's Art Studio Tour. The public event showcases a wide variety of artists and artistic media at 15 different locations.
The Troy Brooks Studio Vault at 500 Wallace Street is one of sites showcasing the work of local artists running from 10 a.m. to 4 p.m. each day.
For more information on Brooks' paintings, visit troybrooks.com online.
Full details for the tour can be found online or by picking up a brochure at one of the participating galleries.