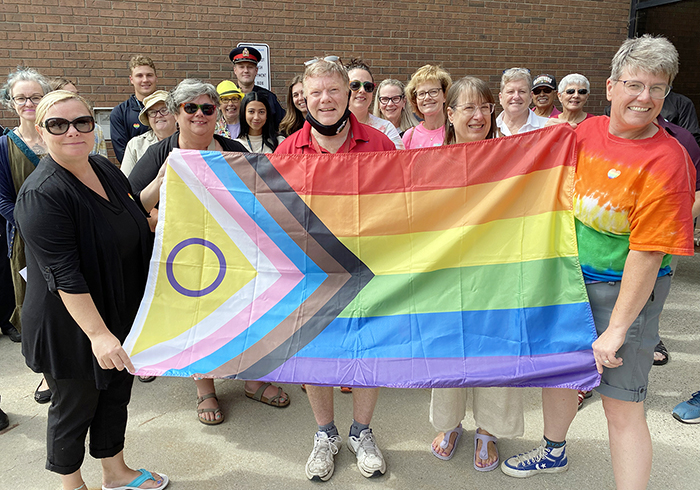 In one of the more baffling moves seen at Chatham-Kent council in some time, council members may be asked to vote on a motion to ban any non-government group from having its flag flown at municipal buildings.
Rookie North-Kent Coun. Rhonda Jubenville brought forth a notice of motion April 3 to end the long-standing practice of allowing groups in the community to fly a flag outside the Chatham Civic Centre to mark specific events and raise awareness of their events and causes.
Under her motion, the only flags permitted at municipal sites would be the Canadian, provincial and municipal flags.
She said she's bringing forth the motion to "avoid controversy and discrimination while encouraging inclusion."
Flag raisings have been used by the Royal Canadian Legion, Community Living, Childhood Cancer Awareness Month, Black History Month, CK Pride, the Chatham-Kent Women's Centre, Franco-Ontarian Day, the Coldest Night of the Year fundraiser for the homeless, and literally dozens of other groups.
To our knowledge, there has been no controversy and discrimination on the issue of flag raising.
We aren't aware of the policies used to determine whether a group is allowed to fly a flag but we're certain one exists.
Surely the councillor can't be against veterans, abused women or children with cancer, so it will be interesting in hearing exactly which group is causing this "controversy" and whether the issue was brought to her by constituents or is her own personal cause.
We're not big fans of banning things such as flags, books or history, although the practice seems to be gaining momentum in some American states.
If there is a problem, let's find out exactly what it is and how to solve it rather than banning so many groups that contribute so much to our community.
Jubenville's motion will be heard by council April 24, assuming she can find a seconder.