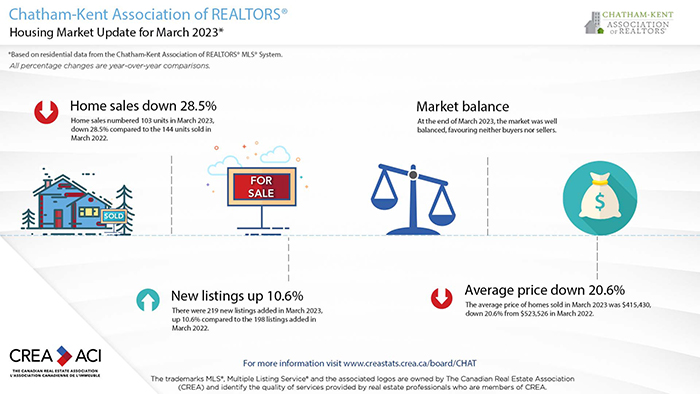 Chatham-Kent's top local realtor thinks signs are pointing up in the local home sales market.
This despite a sluggish March.
According to Chatham-Kent Association of Realtors (CKAR) figures, 103 properties changed hands last month, down more than 28 per cent from the same month in 2022, and below the five-year average to the tune of 16 per cent. It's also still off from the 10-year average by about seven per cent.
But Matt Bechard, president of CKAR, said sales were up significantly from February.
"Although down from last year, (sales) showed a significant increase from February. This indicates that the market is starting to bounce back after a slow start to the year," Bechard said in a media release.
Meanwhile, inventory levels continue to rise.
"The number of newly listed homes was up from March 2022. This is welcome news for potential buyers as it means there is a larger pool of available homes to choose from," Bechard said. "The increase in sales and new listings demonstrates that the market is gaining momentum as the spring season gets underway."
The number of new listings rose 10.6 per cent from March 2022. There were 219 new residential listings in March 2023. This was the largest number of new listings added in the month of March in more than a decade.
On a year-to-date basis, home sales totalled 221 units over the first three months of the year. This was a sharp decrease of more than 40 per cent from the same period in 2022.
The average price of homes sold in March 2023 was $415,430, down by 20.6 per cent from March 2022.
Bechard said the market is neutral right now.
"Market conditions in our region remained in balanced territory, neither in favour of buyers nor sellers. Our local market remains competitive as well-kept and appropriately priced homes are being snapped up quickly," he said. "It is reasonable to expect that a clearer path forward will emerge as we move through the spring months and into the summer."