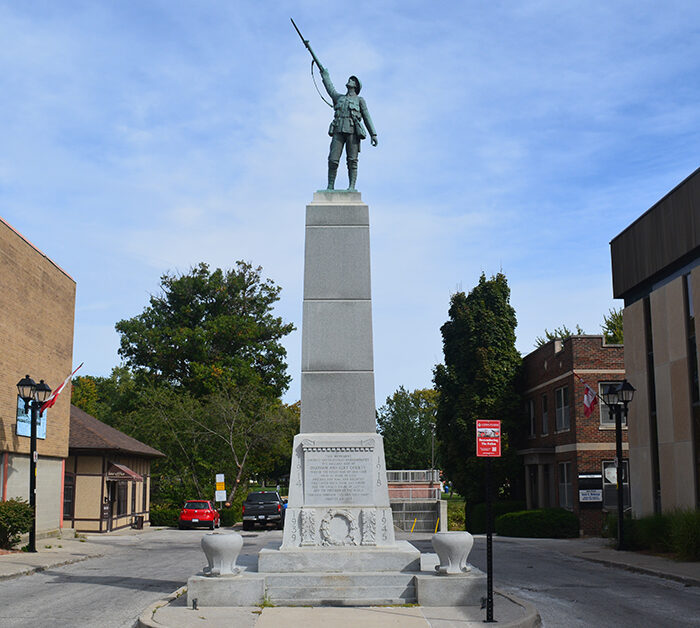 By Pam Wright
Local Journalism Initiative
A Chatham company has stepped forward saying it wants to protect Chatham's Cenotaph.
Honey Electric Limited is ready to donate security equipment and labour to keep the war memorial safe from harm.
The decision comes on the heels of a recent incident where someone defaced the King Street monument with blue spray paint.
Two swastikas and the letters "CMB" were sprayed on. A special restoration company had to be called in to fix the damage.
It's the second vandalism incident in a four-month period, with one happening just prior to Remembrance Day.
Teresa Liberty, who works in human resources at Honey, said the decision to help was made at the company's weekly team meeting.
According to Liberty, employees were "saddened" by vandalism and want to take action.
"This isn't right," Liberty said. "The cenotaph is a sacred symbol and it represents something that is very important for all of us. We should support our veterans and not show them disgrace.
"They are more deserving of respect," she added. "One hundred per cent."
Liberty, who reached out to The Voice after reading last week's front-page story, said the company is "ready and willing" to do whatever it needs to do to help.
Royal Canadian Legion Branch 642 president Len Maynard is pleased with Honey's offer.
"It will be really nice to see something get done," the veteran explained, adding he's gotten a lot of positive feedback after he spoke out about the municipality's need to safeguard the cenotaph with security cameras and lights.
"People have been shaking my hand all over the place," Maynard said. "As veterans, as the legion, and as the community, we're proud of our veterans and we want to protect our sacred monument.
"Chatham-Kent has a lot of heart, but there are idiots out there we have to be aware of."
Maynard said the municipal response has been encouraging with Mayor Darrin Canniff's paying him a visit to discuss the issue and he's hoping it will be brought before council.
Maynard said he's very pleased with the municipality's efforts to clean up the graffiti and praised public works employee Corey Crow for his dedication.
"Corey has been knocking himself out to make sure everything is repaired," Maynard said.