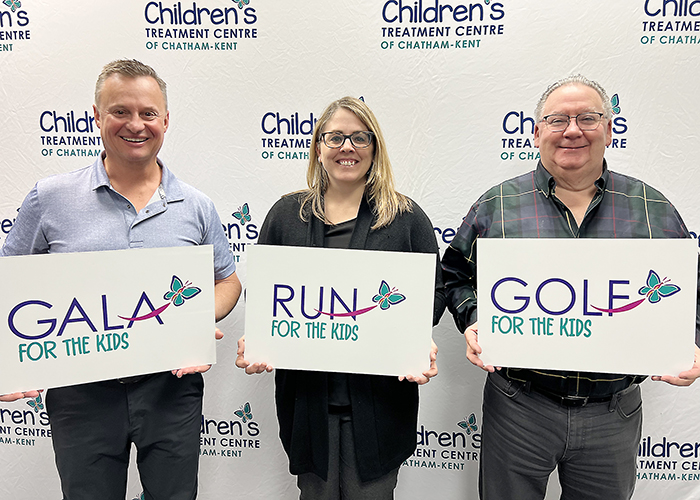 For years, the fundraising has been all about the kids, but this year, Children's Treatment Centre of Chatham-Kent (CTC C-K) events will be "Kids" branded.
And with that, the Festival of Giving will fade off into the mist…or at least will be run by new faces.
Michael Genge, president of the Foundation of CTC C-K, said replacing Festival of Giving, which for two decades has been a huge fundraiser for the foundation, is the Gala for Kids on April 1.
Festival of Giving, also known as FoG, is now in the hands of Chris McLeod and Tim Regan, who co-hosted FoG in recent years.
Genge said the rebranding of events, which includes adding a 5K run, is all about reminding CTC C-K supporters the goal is to help the children.
"I think our focus going forward is that we want our events to focus on what we're doing for the kids. Everything we are doing is for our kids," he said. "It's important that our supporters know that money raised through these events go toward special programs such as specialized equipment and health-care services, mental health services, therapeutic recreation, music therapy, pool programs and other critical services not funded by the government."
With the kids in mind, the Run for the Kids – to take place in June – was an obvious item to add to the fundraising list, Genge said.
"We sat back and the board thought about how we could get our kids involved in some of the stuff we do. We have a run that our kids can participate in at Rondeau (Provincial) Park," he said. "We're going to have a kids' run and then we're going to have a 5K."
Golf for the Kids will replace Festival of Golf, but not much will change, Genge said, just the added reminder the fundraising is in support of CTC C-K children.
Mike Grail, chair of the CTC C-K Foundation, said the new branding makes sense.
"This new direction for the CTC Foundation events is very positive for our organization and we are excited to see how the community will respond to these important initiatives," he said. "As we continue to move forward on our new facility, the community will become even more aware of the large and critical role the CTC plays in the lives of one out of every five children in Chatham-Kent and we must continue to financially support the work they do there."
As for ending the long legacy of decadence FoG delivered, Genge said it was time to move on.
"FoG was fantastic. It was a lot of fun. Chris and Tim are going to take it over and they want to have a big party. All the best to them. It's fantastic that they want to do that," he said, adding it was time to move on for the foundation.
"I have been here seven years. I inherited Festival of Giving and I created Festival of Golf. We're growing up, and like any charity, we want people to understand that coming to our events, they are fundraisers," he said. "But also, at the end of the day, we still want people to have a great time and enjoy the event. Gala will still be a great party."
That is why Gala for Kids will feature a number of bands, "great prizes, great auction items," Genge said, including trips, access to shows, concerts and sporting events.
For more information on 2023 Festival of Giving, go to www.facebook.com/FOGCK/.
More details about the Gala for the Kids will be announced in the coming weeks.