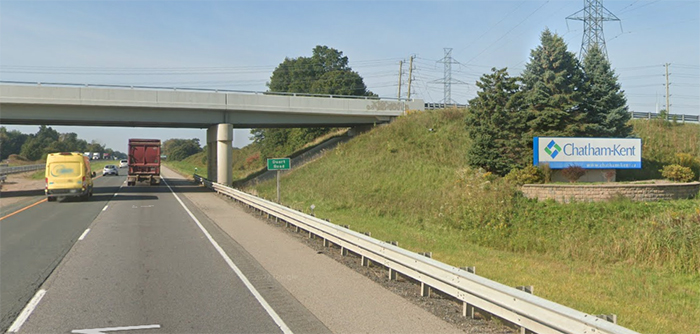 Chatham is the top growth city in the nation, according to the rental company U-Haul, and Chatham-Kent's mayor couldn't be more pleased.
The rating comes from U-Haul's growth index, which analyzes customer moves during 2022.
People arriving in Chatham in one-way U-Haul trucks fell 12 per cent from 2021. However, departures dropped by more than 23 per cent as overall moving traffic decreased in 2022.
That translates to net gains for Chatham. Due to fewer people leaving the area, Chatham netted a larger percentage of arrivals to climb 12 spots from its No. 13 growth ranking in 2021.
Chatham-Kent Mayor Darrin Canniff said the information indicates Chatham and Chatham-Kent are desired places to live.
"This is very exciting. We knew this was a hot spot for people wanting to come here for a lot of reasons," he said. "Cost of living, job opportunities, the weather, our people, the location – those are a few of the points that have people coming here."
Canniff said C-K has one of the lowest unemployment rates in the province.
For people who live in a larger urban area, taking a look at Chatham quickly shows them how much farther their money could go here.
"For cost of living, when you compare us to Toronto, there's a huge difference. With a lot of professions, you can basically make the same wage here as you would in Toronto," he said. "You can find a place that's affordable and is really close to your work. Then there's the commute time in Toronto – where it's often at least an hour either way."
Canniff said the community support here is unparalleled.
"A key piece is the people. When I talk to people who just moved here, they talk about how wonderful the people are," he said.
The pre-Christmas blizzard that left hundreds of people stranded in Chatham-Kent only underlined matters.
"I got about three or four thank-you notes from people from Toronto and beyond who were here and were rescued from the storm," he said. "They talk about how amazing Chatham-Kent was as far as people going out of their way to help.
"If you are born and raised here, you may not realize it. But the way it is in Chatham-Kent – we help people. This is a great place to live."
Add the proximity to the Great Lakes, and the fact larger urban centres are only an hour away if their entertainment entices you, and C-K has a lot to offer, Cannif said.
Stuart McFadden, director of Chatham-Kent Economic Development, said it's not only a great time to move to C-K, but also invest here.
"We've positioned ourselves as an amazing place to invest; as a place where growing a business, a family, and a life are more than attainable," he said. "Our cost of doing business is lower, our geographic location is ideal, and our workforce is growing stronger every day."
According to U-Haul, do-it-yourself movers arriving in Chatham accounted for 57 per cent of all one-way U-Haul truck traffic in and out of the city during 2022 (compared to 43 per cent of departures).
"I think people are moving to the Chatham-Kent area because it's economical to live," said David Anstett, U-Haul Company of Western Ontario president, echoing Canniff's comments. "There are about 30 small communities in this region that seem to be attracting record residents. People like to be on the water, they like to retire here with a calm, relaxed environment, and they like to get out of the bigger cities and live in cottage country."
Trois Rivieres, Sarnia, Quebec City and Kelowna round out the top five Canadian growth cities of 2022. Eleven of the top 25 growth cities are in Ontario.