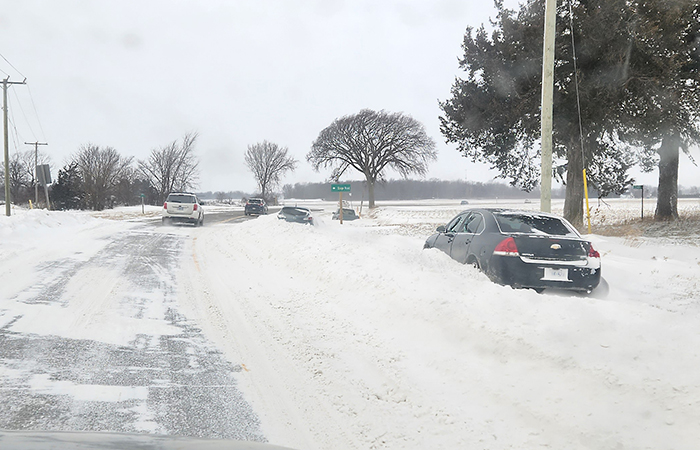 By Pam Wright
Local Journalism Initiative Reporter
Denny Vervaet of Blenheim has emerged as one of Chatham-Kent's newest "snow-lebrities." So too has Walmart Chatham's Judy Lagasse.
Vervaet, co-owner of Red Barn Brewing Company, is in the national spotlight after he gave a family of 10 shelter from a wild winter storm Dec. 23.
The story is making the rounds, with Vervaet appearing on the CTV Morning show Dec. 29.
In an interview with The Voice, Vervaet said the "random" event began in the afternoon. He had just put on a pot of chili at 3 p.m. when he heard a tapping at the window.
The Middle Line resident opened the door to find a panicked woman, crying and shivering in the full-on blizzard, saying she and her family needed a place to stay.
"They were travelling from Toronto to Windsor," Vervaet said, adding there were five people in the car, including a baby.
"When we got them inside, we found out there were two other cars they were caravanning with," Vervaet said, "so we got them inside too."
Thanks to the chili decision, there was plenty of food for the storm weary travellers. Vervaet, his wife Sandy and their three daughters, launched into host mode, setting up cots and air mattresses for the entire family.
According to Vervaet, the group played games and hung out, getting a good night's rest before retrieving their snowbound vehicles thanks to his father-in-law's tractor.
"I'm glad they were able to come to us and stay warm," Vervaet said, adding his guests are calling their stay a "Christmas miracle."
Meanwhile, Lagasse, Chatham Walmart store manager and 48 members of her team hosted a holiday slumber party of sorts for about 50 people that were stranded at the store overnight. That story also went viral.
Lagasse said things started to look really bad around 4 p.m. Three and a half hours later, the store received a request from the municipality for customers to stay put.
"The decision was made for the safety of the people," Lagasse told The Voice. "Chatham-Kent police told us it was going to be an overnighter, so we decided to make the most of it."
According to Lagasse, customers were treated to service with a smile.
"We made sure everyone was warm, safe and content," she said. Staff served up hot food cooking up chicken fingers and samosas, plus lots of snacks.
Employees also blew up all the air mattresses in the store, free of charge.
"We didn't ask customers to pay for any of these," Lagasse said, as workers played the situation by ear.
"There's no playbook for this kind of thing," she explained, "but humanity and compassion came through 100 per cent.
"Myself and my staff were very pleased to provide that kind of support to our community and I am glad I work for a company that allowed me to do this."
Lagasse said she and her team have already been recognized by Walmart management and more is on the way.
"Our efforts haven't gone unnoticed," she said. "We are grateful we could do it."
A 17-year Walmart employee, Lagasse has been running the Chatham store for the past 19 months. She said it's the first time in her work history that she's been involved in sheltering customers at a store.
Lagasse has a T-shirt and book that was signed by everyone involved in the blizzard sleepover and she hopes to display them at the store.
The Vervaets and Lagasse are among the many heroes that answered the call from the municipality to provide shelter during the worst storm to hit Chatham-Kent since 1998.