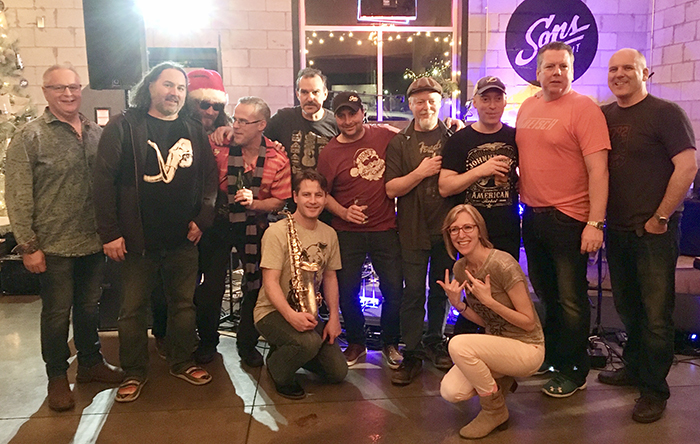 Four bands, two causes.
On Dec. 28 at Sons of Kent, four local groups team up to raise funds for Outreach for Hunger and Hope House – Mental Health Network of Chatham-Kent.
It's the annual Holiday Jam for Hunger, and it's back live and in person after a two-year hiatus due to the pandemic.
This musical tradition started in 2004 and has continued every year since (online in 2020 and 2021), organized the last 11 years by local musician Alysson Storey. While different community organizations have benefited from each concert, several years ago, addressing food insecurity became the focus, as the need continues to grow every year.
"All of the musicians playing have strong connections to Chatham-Kent and want to support local organizations like Hope House which is filling such an important need," Storey said in a media release. "I'm happy to say the Holiday Jam annual events have raised close to $25,000 for local charities, which is a true testament to the community spirit here in C-K."
Many of the participating musicians have been involved with the Hunger Jam over the years.
Kings of the North will headline the event, and feature Steve Walker, brothers Don McLellan on bass and Bryan McLellan on drums, Dan Martin on guitar and Nick Novosad on keyboards.
The Dave Trinca Xperience will lead in to Kings of the North, with Dave Trinca on lead vocals and guitar, Alysson Storey backing vocals and violin, Andrew Payne on backing vocals and keyboard, Brian Cox on electric guitar, Dave French on bass, and Steve Bellan on drums.
New this year are two bands that grew out of a local school connection: King George Public School. Britney and the Boys, and 40 Hours Over will open the evening.
Sons of Kent Brewing and an anonymous donor are sponsoring this year's event.
Doors open at 7 p.m. and admission is by donation.