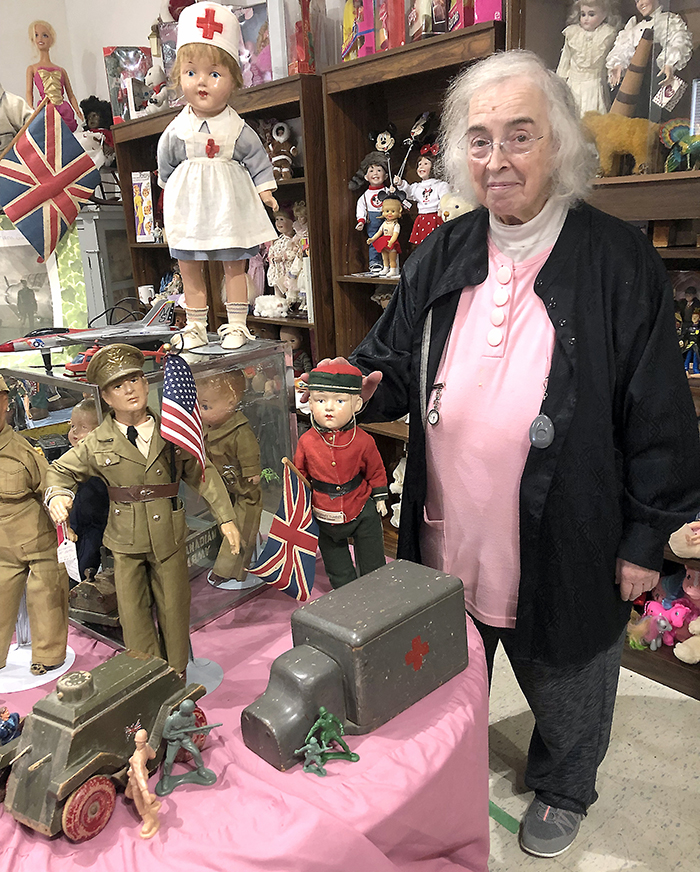 By Pam Wright
Local Journalism Initiative Reporter
Tipperary Tommy circa 1915 is Marie Smale's favourite.
With his jaunty pillbox hat, blue eyes and rosebud lips, the toy soldier holding a Union Jack is emblematic of The War to End All Wars.
Smale, a well-known toy and doll collector, put together a display in honour of Remembrance Day to showcase wartime toys of yesteryear.
According to Smale, sharing Tipperary Tommy and other military toys is a way to show gratitude for those who served in Canada's military.
"We appreciate the people brave enough to go to war," she said. "They had to give up a lot of things to give us what we still have today. I think it's very important."
Smale also thinks the war toys offer a window into the minds of children impacted by war.
"The children were there," said Smale. "We don't know how they felt or even if they talked about the war. The toys were part of that."
The former elementary school teacher, who shared a passion of collecting with her deceased husband Bruce, has a vast collection. She currently rents a room at the former Sprucedale school in Chatham to showcase a small part of her collection.
However, she has hundreds, if not thousands, of other items tucked away.
"I've always been interested in older things," Smale said, noting she and her husband had no children and they didn't drink or smoke.
"We spent our money on collecting," she said.
Tipperary Tommy was purchased by Smale at an antique shop in Leamington and he's in tip top shape for being 107 years old. The name comes from a marching song made famous during the First World War, called "It's a Long Way to Tipperary."
"It's amazing to have one of these dolls in this condition," Smale said.
Other items of note include toys that originated in Tilbury. Smale has both a wooden ambulance and tank built by the Ellwood family after the Second World War.
Ellwood Toys in Tilbury, led by Harry Ellwood, was closely linked to Windsor-based Lincoln Toys and eventually incorporated its Lincoln Specialities line. The company built toys from wood and pressed steel, including everything from airplanes to dump trucks to Massey Harris tractors.
The toys were popular and today are widely coveted by collectors.
Smale, who is part of the Historical Toy and Doll Society of Southwestern Ontario, is hoping to share her collection with others. Private tours can be arranged by calling 519-359-6171.
"It makes me happy to do it and it makes everyone else happy," Smale said.