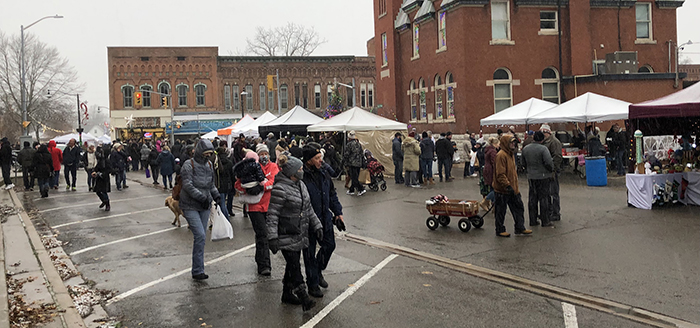 By Pam Wright
Local Journalism Initiative Reporter
The fifth annual Dresden Christmas Night Market is almost here and the excitement is building.
Morena McDonald, who co-organizes the event with Tyler Ouellette, said the team is currently firming up the details for what will likely be the biggest Christmas Night Market yet.
Now that COVID-19 regulations are relaxed, expansion is in order for the Nov. 26 event.
"This year with no restrictions we are able to do the things we've wanted to do," McDonald said, adding, "There will be a little more space this year," allowing for more vendors and food trucks.
And there may be more glitz and glam. The night market has partnered with Dresden Shines to purchase a new giant Christmas Tree. Volunteers were expected to be out in full force on the weekend jazzing up the town with lights and decorations.
According to McDonald, two new opportunities have been added to this year's event. A 50-50 draw will be held, with the proceeds to be split between four youth groups, including Dresden Sidestreets Youth Centre, Blenheim Youth Centre. Tilbury Solid Rock Cafe and Big Brothers, Big Sisters Chatham-Kent.
"We are non-profit and wanted to focus on giving back to youth in the community," she added.
People wishing to purchase 50-50 tickets can do so at the market or online at http://www.big5050foryouth.ca. There are early bird prizes available.
Photos with Santa is another new fundraiser. The Chatham-Kent Health Alliance Foundation will have different photo settings available, and participants – whether it's a family or a child – will be able to get a digital photo e-mailed to them in exchange for a small donation.
Live music and entertainment will be back at the pop-up bar, featuring beer from three craft breweries and wine from the Dresden Legion. Participating businesses include Sons of Kent, Natterjack Brewing Company from West Lorne and Black Gold Brewery from Petrolia.
Those planning to have a beverage are encouraged to reuse the cups that were handed out at the summer pop-up bar.
"We want to instill environmental sustainability," McDonald noted. "We really want people to bring back their cups and use them again."
The market is open from 3 p.m. to 8 p.m.