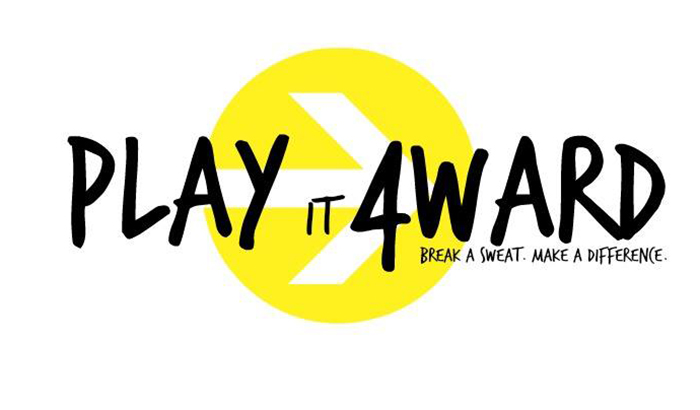 Sports and charity have long mixed well, but the women of Play It 4Ward hope to take things to a new level.
The women's multi-sport league features four teams with one common goal: to raise funds for charity.
In place of standings, the league has a dollars raised tally. Each week of success means more funds raised for a team's charity of choice.
Caress Lee Carpenter, one of the league captains, said the idea evolved out of a mish-mash league initially known as "Old Lady Gym Class."
The similarities between leagues is they both feature a mix of spots. One week, it could be basketball, the next volleyball, and then indoor soccer, or floor hockey. Throw in dodgeball and even fun challenges such as a relay race and tug of war, and you get the idea of what the league is all about.
The goals in Play It 4Ward are twofold: Have fun and raise funds for your team's charity of choice.
"It's a fun concept," Carpenter said. "Our age ranges from 25 to 45. You get quite the mix."
Some players may excel at one or two sports, but rarely all options.
Team captains, for Green, Red, Blue and Purple, get together at the start of the season and look at the players registered. They each can select four "ringers," or friends, and the rest of the team composition is completed by drawing names from a hat.
"Every year, you get the opportunity to play with some new ladies and make some new friends," Carpenter, captain of Team Green, said.
There are 10 players to a team, and there is a long waiting list for others seeking to join.
Those who are in the league pay $100. The majority of that entry fee goes to the charitable "payouts," while the remainder is for insurance, gym rental, and jerseys.
"We pay a minimal fee for insurance. Ecole Ste. Marie lets us use the gym for a small charge," Carpenter said. "Once people hear what the league is about, they really understand."
In between the league members and the waitlist are the subs – a group of women who want to play in the league, but just don't have the free time to commit to the full year. Carpenter said this year, they'll be asked to pay a nominal fee each time they fill in, with the funds added to the charity pot.
Just because your team isn't the champion on the night does not mean you don't earn cash towards your charity. Carpenter said the top squad receives the highest payout, while second, third and fourth also receive payments to earmark for their charities of choice as well.
Still there are competitive juices.
"The more you win, the more you get to put towards your charity," Carpenter said.
Even if you aren't in the league and aren't a sub, Carpenter said anyone looking to donate to any of the charities can do so. Just reach out to the league at playit4wardck@gmail.com.
Play It 4Ward squads also gather outside the Ecole Ste. Marie gym at times. Carpenter said they've gone offside for fun evenings of bowling, curling, billiards, darts and even to a gym to work out together. It's an opportunity to support local businesses for the league members.
Play It 4Ward came to life at a bad time. Carpenter said the inaugural season began mere months before COVID-19 forced everything to a halt in 2020.
"That was our first one," Carpenter said of the 2019-20 season. "And then…COVID. It destroyed everything."
But it didn't destroy the fundraising. When COVID struck, the Play It 4Ward women donated more than $586 to the Chatham-Kent Children's Treatment Centre, in excess of $522 to Ronald McDonald House Charities Southwestern Ontario, nearly $459 to Pet and Wildlife Rescue (PAWR), and more than $432 to the Pregnancy and Infant Loss Network.
Still, Play It 4Ward wasn't done. Carpenter said as COVID mangled the season, there was still some money left in the league pot.
"We saw a need and we went and helped the soup kitchen," she said, explaining the league donated $400 to the Word of Life Church in Blenheim's local kitchen. Volunteers there were preparing and delivering meals to seniors who were unable to leave their homes during the pandemic.
This year, the league will be playing to support four new charities across Chatham-Kent. Team Blue will play for Chatham Hope Haven, while Team Green seeks to raise funds for Westover Treatment Centre, and Team Red has its fundraising sights set on Noelle's Gift, while Team Purple supports the Chatham-Kent Women's Centre.
Play It 4Ward will run for about nine months of the year when up and running normally. This year, due to the uncertainty of COVID-19, it gets off to a late start in early November, and will run through April, Carpenter said.
Although the league quickly reached maximum capacity with eager returnees, anyone looking to be added to the waitlist can contact playit4wardck@gmail.com.