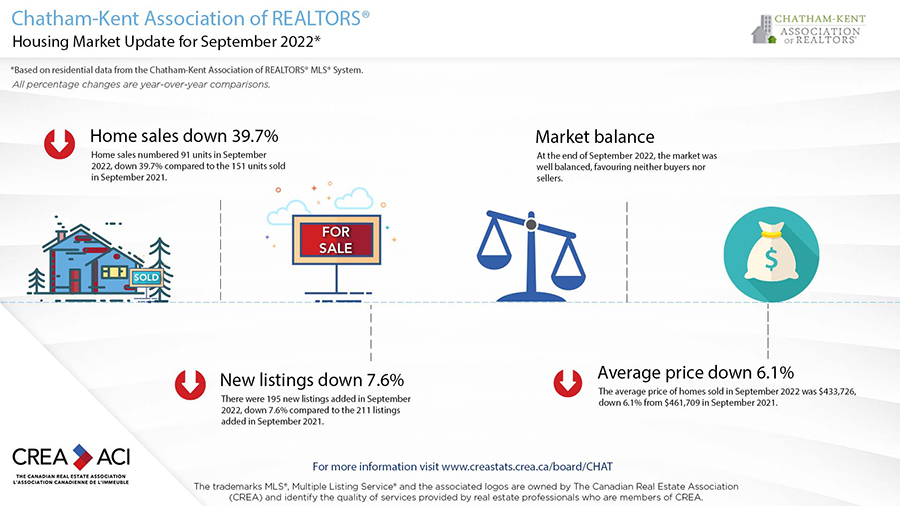 Home sales and prices took a tumble in September in Chatham-Kent.
Just 91 homes sold in the month, down nearly 40 per cent from September of 2021.
That low number also saw sales drop nearly 27 per cent below the five-year average and about 22 per cent below the 10-year average for September.
The dip is indicative of how the year is going in terms of home sales, according to figures from the Chatham-Kent Association of Realtors (CKAR). Through September, 1,075 units changed hands this year. That's down 22 per cent from the first nine months of 2021.
Amber Pinsonneault, president of the CKAR, said C-K is following the provincial trend.
"As with many other markets across Ontario, home sales are trending below typical levels for this time of year as rising interest rates hamper demand," she said in a media release.
The number of homes sold wasn't the only thing to drop in September, as the average price for houses sold in the municipality dipped 6.1 per cent compared to September of last year.
The number of homes on the market is on the rise, however, due to sluggish sales. New listings in September were actually down by 7.6 per cent, but that still translated to 195 new properties on the market against the 91 sales.
Pinsonneault said if the trend continues, buyers will benefit.
"Because of lower demand over the past several months, overall supply levels are moving up and away from record lows. If this trend continues into the future, buyers will have more selection to choose from in their home buying journey," she said.