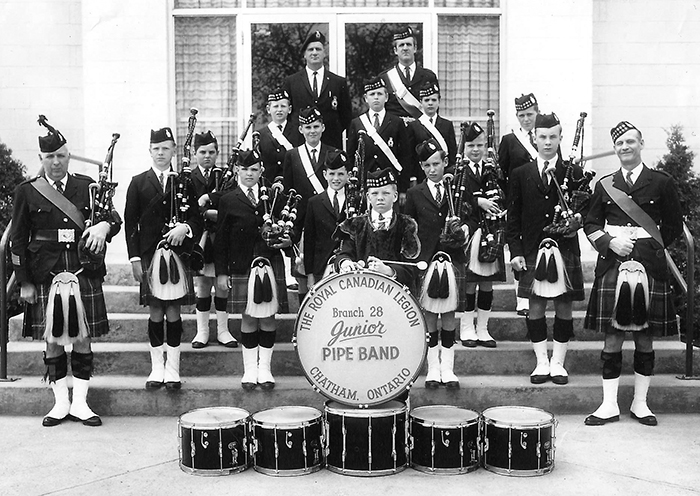 By Pam Wright
Local Journalism Initiative Reporter
The storied history of the Royal Canadian Legion Branch 642 Pipes and Drums is being celebrated during a reunion weekend Oct. 22 and 22.
Referred to as the '75+2 Anniversary' – to account for the pandemic years – the event is hoping to draw all past band members of the former Branch 28 senior and junior bands, as well current members of the Branch 642 Pipes and Drums Band.
The reunion is expected to draw members from across North America.
"We have many former members who have moved all over," said Pipe Major Walt Tomaszewski, one of the organizers. "We hope to see as many as possible return for the reunion."
The band's roots run deep, providing the soundtrack for major events such as Remembrance Day ceremonies throughout the years.
Branch 28 Royal Canadian Legion Pipe Band was formed after the Second World War. The first parade was held on Dominion Day, July 1, 1945, with the band bearing the distinction of being one of the oldest and continuously active Legion pipe bands in Canada.
A junior pipe band was active between 1962 and 1972. When the two Chatham Legion branches amalgamated in 2015, Legion Branch 642 became the sponsor.
Wearing the Fingask tartan, the band continues to support events and parades across Chatham-Kent, maintaining a year-long practice schedule. The band has played across Canada, the Netherlands, New Orleans, New York City and for the RCMP Musical Ride. It has also performed in France at the Vimy Ridge War Memorial.
The reunion weekend will feature a Pub Night on Oct. 22 at the Ultimate Sports Bar at 304 St. Clair St. in Chatham, the building that used to be home to Branch 28. It begins at 6 p.m.
Sunday's main event is an open house at Royal Canadian Legion Branch 642 from noon to 6 p.m. at 39 William St. S. in Chatham. Dignitaries will speak at 1:30 p.m. Memorabilia, pictures and videos from all eras will be on display on both days.
For more information, visit the Branch 642 Royal Canadian Legion Pipe Band page on Facebook.