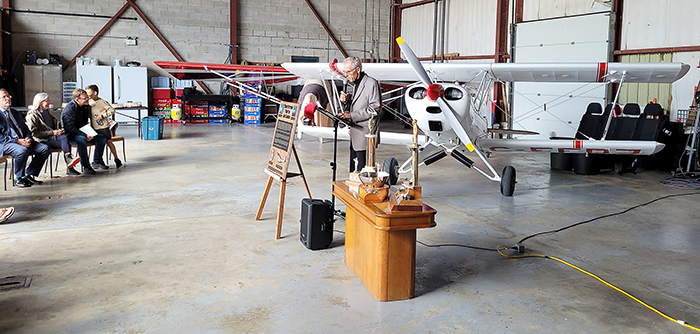 The brains behind a made-in-Chatham-Kent plan that went across the country nearly six decades ago received recognition recently.
A new plaque was unveiled Sept. 23 at the Chatham-Kent Municipal Airport by the Kent Flying Machines Chapter of the Recreational Aircraft Association, posthumously honouring two Chatham-Kent residents. Lt. Col. Hank Bruhlman and Capt. Frank de Jong initiated and developed a glider-flying program for the local Air Cadets in the mid-1960s.
The program was so successful that it was adopted nationally and now there are nearly 100 aircraft providing training annually to more than 24,000 cadets across the country.
Mayor Darrin Canniff, staff and cadets from 294 Chatham-Kent Squadron, Air Cadets, friends, glider student graduates and supporters attended the unveiling to thank the surviving family members who were present.
The plaque is now mounted in the Airport lobby.
The glider effort came to be in 1966, after the RCAF cut back on regional orientation flights in military transport aircraft for Air Cadets. Inspired by an experimental program in Alberta, Bruhlman and de Jong, both pilots, responded with a proposal utilizing gliders.
They devised a plan to provide local glider familiarization flights to the Royal Canadian Air Cadets of 294 Chatham-Kinsmen Squadron. With a grant from the Kinsmen Club of Chatham and funds raised by the cadets themselves, the squadron purchased a used Schweitzer 2-22 glider.
de Jong, an aircraft engineer and chief ground school instructor for the squadron, designed a winch and a cable retrieval car, which was built by students at Chatham-Kent Secondary School.
With the assistance of additional squadron staff and the Pioneer Flying Club, 78 familiarization flights were provided that first year to the 294 Squadron cadets.
A year later, the program received exposure at a cadet summer camp in Trenton.
The program proved so successful and cost effective that the Department of National Defence and the Air Cadet League of Canada signed a Memorandum of Understanding to adopt it and provide glider familiarization and training nationally.
Tens of thousands of familiarization flights are flown and an average of 300 Air Cadets are trained as glider pilots annually.