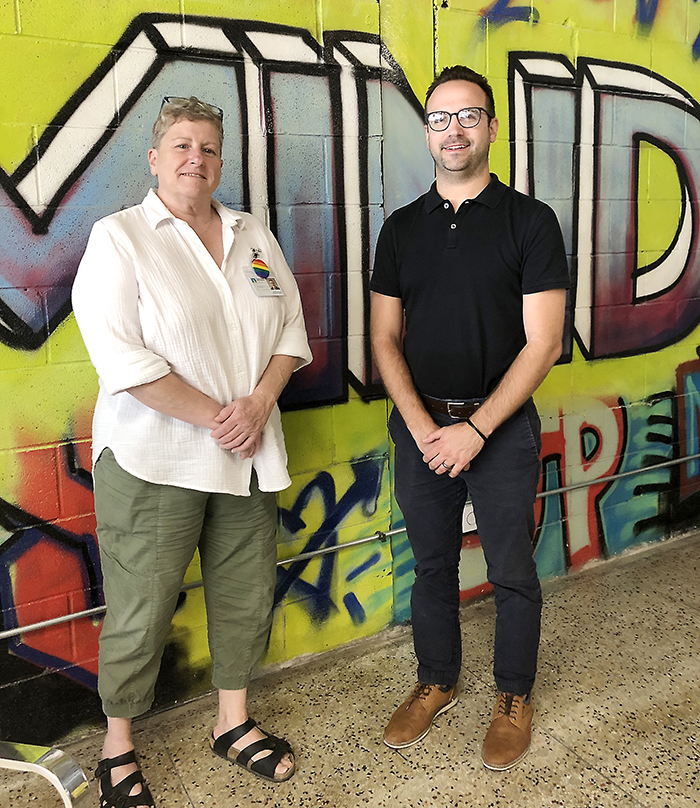 By Pam Wright
Local Journalism Initiative Reporter
The community's one-stop shop for young people seeking mental health supports has a new name.
Known as ACCESS Open Minds since 2016, the Chatham facility has been rebranded as Youth Wellness Hubs Ontario Chatham-Kent.
It's YWHO C-K for short.
Registered nurse Aaron Horvath, who is part of the YWHO Early Intervention team, said the agency plans to "deliver and strengthen" the low barrier supports it offers to young people aged 12 to 25.
That includes dealing with the aftermath of the pandemic.
"I think we're seeing increased needs for supports across the board," Horvath explained.
His colleague Susan Dykxhoorn, the Integrated Youth Services Co-ordinator agreed.
"Anxiety seems to be more prevalent with young people," Dykxhoorn added, noting the pandemic brought a lot of uncertainty that was hard for young people to deal with, such as students worrying about graduating with their class.
Even though teens and college students were able to continue to study online, it quickly got old for most, Horvath said.
"It's important to have opportunities to be social," he added.
Although some of the COVID-19 safety measures, such as Plexiglas barriers, are still in place, YWHO staffers say they are glad to be getting back to normal.
By design, the King Street location is meant to be welcoming. There's a stoop area where youth can kick back, a modern kitchen, plenty of abstract art and a boardroom called the Innovation Zone.
Also featured are private treatment rooms along an indoor streetscape with themes such as Harry Potter, The Beach, The Cottage and the Movie Room.
A cozy clinical room provides space for a psychiatrist and nurse practitioner who attend periodically.
Andria Appeldorn, director of fund development and communications for CMHA Lambton Kent, said the organization provides help for youth and families. A total of 30 organizations, including the Chatham-Kent Health Alliance and Linck are affiliated with YWHO C-K and there is even an addictions worker on site.
"Even though our name is changed, our messaging is the same" Appeldorn said, adding peer services, outreach and system navigation services are all still part of the package.
Youth and families seeking help are able to self-refer through e-mail or by picking up the phone.
Appeldorn said members of the organization's Youth Advisory Council played a significant role in the rebranding and will continue to do so in the future.
The youth council is currently looking for new members.
The name change, announced on International Youth Day Aug. 12, means the Ministry of Health will no longer be the funding body. Instead, funding will come through the Centre for Addiction and Mental Health.
The YWHO C-K site is located at 140 King St. W. Chatham and is open Monday to Friday from 8:30 a.m. to 5 p.m.