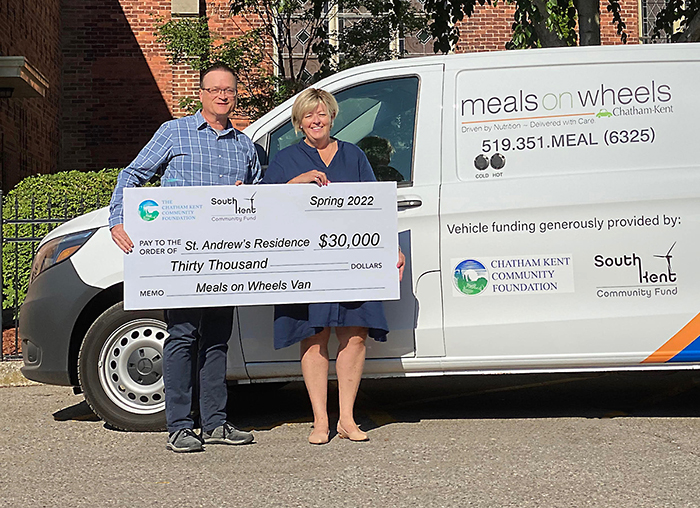 By Pam Wright
Local Journalism Initiative Reporter
Despite the pandemic, Chatham-Kent's Meals on Wheels program rolled out 35,000 home-cooked meals in 2021.
Now, thanks to a timely donation to purchase a new van and an ambitious revamp of the group's kitchen at St. Andrew's Residence, the volunteer-driven organization is on track to answer the need.
According to Lynn McGeachy, executive director of the St. Andrew's Residence Foundation, a $500,000 renovation is planned.
But even though it sounds like a lot, McGeachy said it's "not fancy.
"We are increasing our fridge and freezer capacity," she noted, as well as boosting storage space.
"We are redoing things so we can work more efficiently," she explained, adding a new state-of-the-art oven is being installed.
"It allows us to cook in a different way," McGeachy added. "It's all about efficiency."
Meals on Wheels has a solid 50-plus-years of feeding many in the local community, operating with a network of more than 200 volunteers.
It distributes reasonably priced nutritious meals to Blenheim, Thamesville, Tilbury, Merlin, Highgate, Ridgetown and Chatham.
When volunteers arrive with food, it also provides a social exchange for people living alone in the community.
McGeachy pointed out that "no one was turned away" by Meals on Wheels throughout the pandemic.
The job will also be made easier following the purchase of a new van. It was made possible by way of a three-year $30,000 grant from the Chatham Kent Community Foundation and the South Kent Wind Community Fund.
As for funding the new kitchen, McGeachy said there is some federal grant money available, but other grants will be sought, as well as fundraising efforts.
Recently, the Meals on Wheels kitchen project caught a break from Chatham-Kent council following approval of a motion from South Kent Coun. Clare Latimer to waive the traditional building permit fee.
Instead of paying just over $8,000, Meals on Wheels will only have to pay $90 – the lowest amount possible.
Although there was some discussion about setting a precedent for future projects making the same request, the motion was approved.