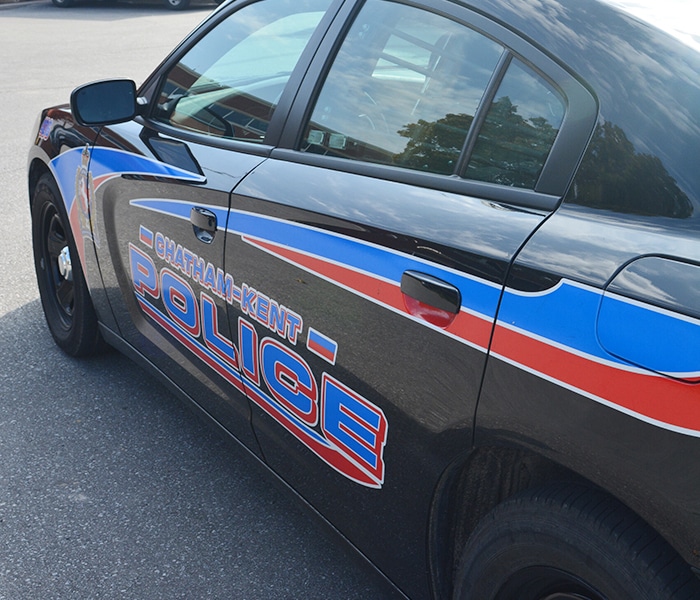 Assault charges on Taylor Ave.
A man is facing numerous charges following a third-party domestic violence complaint Tuesday in Chatham.
Chatham-Kent police got the call about 12:40 p.m. of a domestic disturbance on Taylor Avenue in Chatham.
Police attended the address and spoke with the man, who refused to leave the residence.
The man was wanted on two outstanding warrants, police say. While a Feeney Warrant was being obtained, the man surrendered and was arrested by the police.
Through investigation, it was learned the man had engaged in a verbal argument with the woman, which escalated when he forcibly took her phone, leaving an abrasion on her chest.
It was also learned the man had assaulted the woman on two other occasions, police say.
A 33-year-old Chatham-Kent man was charged with assault and two counts of assault causing bodily harm.
Evening scrap leads to charges
At 5:49 p.m., while investigating another matter, police located a disturbance on Fourth Street in Chatham.
A verbal argument between two women escalated when one woman threw a beverage on the other woman.
A 39-year-old Chatham-Kent woman is charged with assault. She was transported to police headquarters and held pending a bail hearing.
Failed theft attempt ends in arrests
Chatham-Kent police responded to a report of two young men attempting to steal an ATV on Countryview Line in Chatham Township Tuesday shortly before 8 p.m.
Officers arrived on the scene and learned when the young men were unsuccessful; they punctured the tires of the ATV.
The men were located a short distance away and arrested.
A 15-year-old Chatham male youth is charged with theft, mischief, and breach of probation.
A 19-year-old Chatham man is charged with theft and mischief.
More domestic violence
Shortly after 10 p.m. Tuesday night, police responded to a domestic dispute on George Street in Ridgetown.
Police arrived and learned a verbal altercation between a man and woman became physical, and the man assaulted the woman.
A 49-year-old Ridgetown man was arrested and charged with two counts of assault.