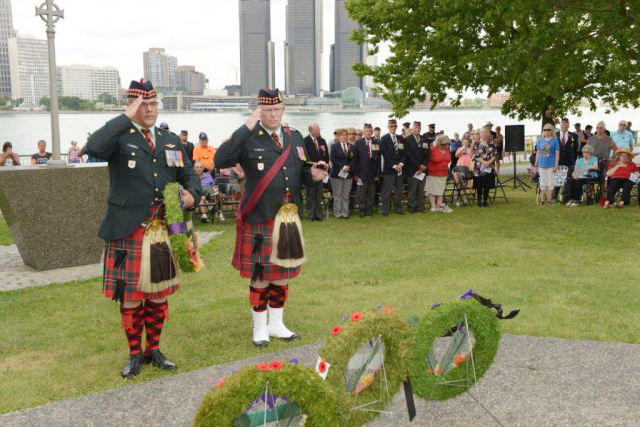 By Pam Wright
Local Journalism Initiative Reporter
For more than 200 years, members of the Essex and Kent Scottish Regiment have never failed to answer the call.
That's why an ambitious fundraising campaign to raise $600,000 has been launched by the Scottish Borderers Foundation, a civilian group that supports the regiment. The goal is to honour the military unit and preserve its storied history.
The campaign may have reached the halfway mark July 11, if Chatham-Kent council approves a motion by Chatham councillor Michael Bondy to donate $100,000 in municipal funding.
If approved, Chatham-Kent will follow the lead of the City of Windsor and Essex County with both committing $100,000 to the initiative.
According to Dennis Poole, a member of the Scottish Borderers Foundation, the money will be used to fund initiatives that fall outside of the purvey of federal funding.
Costs related to supporting and digitizing archives, veteran memorials, monuments and parks are not funded by the government, Poole said.
Neither are pipe and drum bands, or the considerable travel costs associated with veterans attending commemorative services both at home and overseas.
Organizers see the fundraising campaign as a way to honour the regiment members for generations to come.
"It's a one-time ask," Poole said in a recent interview with The Chatham Voice. "The plan is to invest the money and fund projects using the interest.
"We thought we would do it in one big push so the work can be carried on in perpetuity," Poole explained. "We don't want to continually be coming back to ask for money.
"Once history is gone, it's gone for good," Poole stressed. "It is our duty to honour those who made the supreme sacrifice and for those who served."
The Essex and Kent Scottish regiment has a rich history in the fight for freedom across the world and in the building of Canada.
First assembled in 1793, local troops engaged in key battles of the War of 1812 and in both World Wars, including the ill-fated Dieppe raid in France.
Since that time, the regiment has remained active in global conflicts, peacekeeping and peace-enforcing missions.
Recent activity has also involved domestic operations, with members assisting with severe weather events and public health crises.
Lt.-Col. Michael Robinson (Ret.), a former commanding officer of the regiment who is leading the campaign, said remembering those who served with the Essex and Kent Scottish is essential.
"The regiment's goal is to remain a pivotal inspiration for the future," Robinson said in a media release. "We know in today's world neither freedom nor peace should, or can, be taken for granted."
To learn more about the Essex and Kent Scottish Regiment, access www.servicesacrificeduty.ca.