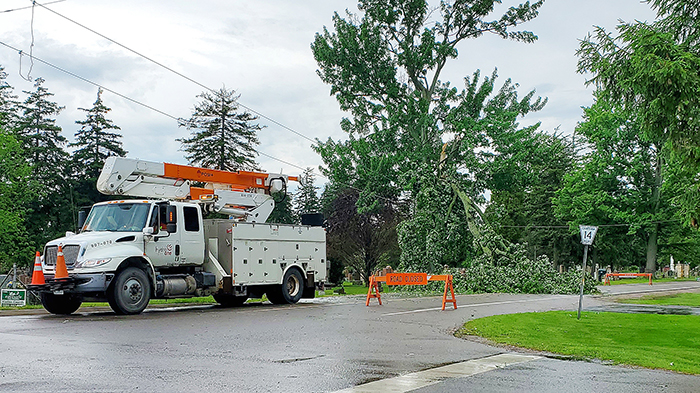 "It only took about 15 minutes to do all that damage."
That from Mike Goodwin, manager of metering for Entegrus in regard to the storm that rolled through Chatham-Kent on June 1.
"We had about 14,000 customers out at the peak," he added.
The power company sent all its crews out to clear tree limbs and replace downed poles and lines all over the municipality.
Chatham took the worst of it, with about 11,000 customers without power at one point. Most of the south of Chatham went dark shortly after 1 p.m. June 1 and did not get it back for more than five hours.
For others, they were without power for a full 24 hours, Goodwin said.
Outside of Chatham, Wallaceburg was hard hit as well, with 2,500 customers there knocked off the power grid.
The worst problem developed on Park Avenue West in Chatham where Goodwin said the wind took down four hydro poles and a three-phase transformer bank. Customers nearby were among those who went a full day without electricity.
Other areas saw lines damaged and shorted out, causing problems and needing replacement lines to be run, he said.
Entegrus sent out every lineman they could, and called in support from St. Thomas and Strathroy to help expedite repairs, Goodwin said.
He thanked customers for their patience.
Goodwin offers advice to those who see a power problem.
"If you do see downed power lines, stay away from them and call our number (519-352-6300) right away," he said.