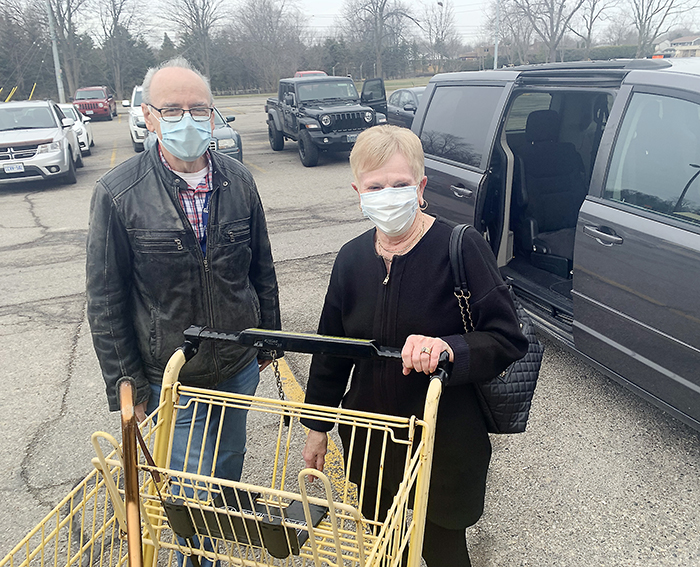 Family Service Kent (FSK) is looking for a few good drivers.
The community support organization needs volunteer drivers for its Community and Home Assistance Program (CHAP).
FSK's Marjorie Crew said the pandemic and rising fuel prices due to the war in Ukraine have cut their numbers. But it has not cut the need.
CHAP provides services to help seniors and adults with long-term disabilities maintain their independence.
Prior to the COVID-19 pandemic, Crew said there were 55 drivers signed up to volunteer their services to take clients to medical appointments and other destinations. Now, there are 42.
Bev Webster, transportation co-ordinator for CHAP, said they field a minimum of 65 calls a day, with Mondays and Fridays topping 100.
"Seventy-five per cent are medical. But we're starting to do the social – hairdressers, grocery shopping, etc.," she said. "We go all over. As long as there is a driver willing to do the drive, we will take you."
CHAP has nine vans, which are driven by their personnel with specialized training for wheelchair accommodations.
There are also the volunteer drivers, who handle about half the workload.
Volunteer drivers do receive a set mileage rate, Crew said, enough to cover fuel and wear and tear on one's vehicle.
Stephen Wright has volunteered for CHAP for the past six years. He said he loves it.
Wright said he took an interest shortly after retiring from Continental. He attended a volunteer fair at the W.I.S.H. Centre and connected with Crew there.
He's glad he made the decision.
"I love driving. This is a perfect fit," he said. "What I enjoy about it is the people. I talk to them when we are travelling. I learn a lot about them; where they come from, sometimes it's different countries. It's a social aspect. I'm learning from them."
He's also trying to make them feel relaxed by engaging them in conversation.
"I strike up conversations so they can feel at peace. Some people are very anxious with new people. I try to make sure it is as comfortable for them and as pleasant for them as possible," Wright said.
Anne Kominek is certainly at ease with Wright.
She called him "a gentleman," and said CHAP is essential to her, and has been for the past 12 years.
"I couldn't be without it. I use it for everything I can," she said. "I don't drive, so I have to depend on CHAP. It helps me a lot."
In 2021, Wright made 202 round trips, totaling 7,646 kilometres. He said most of the driving is local, but he's taken clients as far as Orillia and Toronto in the past. Trips to Windsor and London for medical appointments are regular occurrences as well.
Anyone wanting to volunteer their time and vehicle can contact the CHAP program through www.familyservicekent.com or call 519-354-6221.