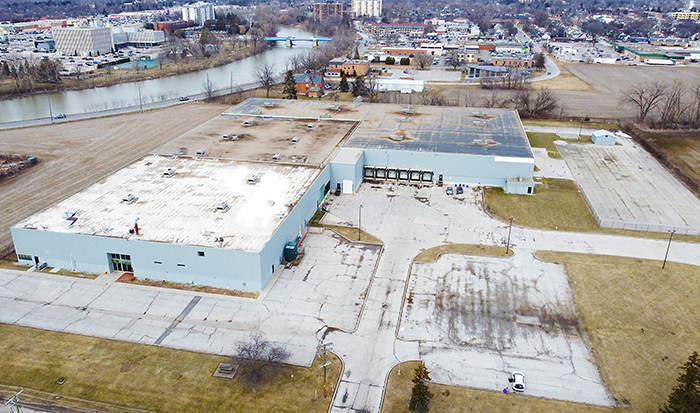 Expanding to meet demand for battery housings for EV pickup truck
Chatham-Kent officials think they have captured a form of Lightning in a bottle, with Magna Industries announcing it is setting up a production facility in Chatham.
Magna will establish a manufacturing line by late 2022 to construct battery enclosures for the Ford F150 electric truck, the Lightning.
The plant, which will be in the old Crown Cork & Seal building at 125 Irwin St. off Riverview Drive, will mean an anticipated 150 new jobs for residents of Chatham-Kent.
Phil Page, general manager of Formet Industries, a subsidiary of Magna, said interest in the F150 Lightning has been huge, prompting Formet to look for additional production space to build the battery housings. He said the St. Thomas facility just didn't have the space, so they looked elsewhere.
Their eyes focused on Chatham.
"We had to look at facilities in a two-hour radius, and then facilities that could offer the support resources. Chatham hit them both on the head," he said in terms of an appropriately sized building and the support needed for it.
Formet's Irwin Street location has 170,000 square feet of floor space, a good fit for the company's needs. Page said finding the right-sized facility wasn't easy. There were numerous larger and many smaller sites available in and around the area, however.
"The location is ideal for us too. It's on the (Highway) 401 corridor, and this project goes into Dearborn (Mich.)," he said of the side of the Ford facility where the F150 Lightning is being produced.
Darrin Canniff, Mayor of Chatham-Kent, said a great deal of preparatory work has gone into readying the municipality for industries such as Magna.
"We laid the groundwork. We had been working for several years now," he said. "When Magna came looking, it was into a very positive environment."
Canniff said Chatham-Kent continued to grow "leaps and bounds," and as a result is creating the workforce.
"Whatever they need to be successful, we can do it," he said.
Jamie Rainbird, manager of economic development for the municipality, said the new Magna production facility is a perfect fit for Chatham-Kent, which suffered earlier this century during the automotive industry downturn. The loss of Navistar and its upwards of 1,000 good-paying jobs was felt for years.
"There's been a conscious effort to diversify and grow the economy. Not relying on one large employer helps mitigate the risk from an economic standpoint," he said. "For companies with facilities of this size, we can't be more excited."
The wages offered should be enticing as well.
Initially, during training, pay will be at $18.55 an hour for employees. For production team members, full time personnel will earn $22.90 per hour and it will scale upwards as experience and years of service are gained.
Skilled tradespeople will earn $39 per hour. Both rates are consistent with wages in the sister plant in St. Thomas, Page said.
As far as prepping the Irwin Street building for occupation, he added it won't take much. The landlord is in the process of retrofitting some office and washroom space, and not much else should be required.
"Most of our equipment is standalone equipment that can be mounted on the floor," he said. "We do have to put a couple of transformers in for step-down voltage."
With limited makeover requirements, he anticipated the first battery trays would roll of the line in late fall.
By early 2023, he foresees the plant running three shifts and eventually producing 120,000 units a year.
At first, output will be at close to 60,000 units per year.
"Phase one, the implementation of our first system," Page said, will handle that 60,000-unit capacity. "Once customer volumes rise, we'll put in the second system, which is anticipated in 2023."
The first phase will see about 100 jobs. These will be filled this year. Page said the first check will be to see if anyone working at their St. Thomas facility wishes to relocate. After that, there will be local hiring.
Training will initially take place in St. Thomas on the existing system in place there, Page said.
"We're Magna-tizing them," he joked.
There will be a shuttle service taking personnel to and from training, he added.
Municipal officials, as well as Magna folks, predict there will be spinoff benefits in Chatham-Kent as well.
"We'll try to minimize logistics and keep it as local as we can," Page said.
"We very much expect the same thing, "Canniff said. "The bigger picture with the (Stellantis) battery plant in Windsor, we have the old Navistar site with 80-some-odd acres fully serviced and ready to go. I fully expect more companies to start looking this way."
Battery enclosures, which all electric vehicles require, house high-voltage batteries, electrical components, sensors and connectors, contributing to the structural and safety aspects of a vehicle's frame and protecting critical components from potential impact, heat and water.
These are not your average battery housings. The Irwin Street facility will make battery trays and mid-tray assemblies that are designed to "fit between your wheel wells of your F150. They're seven-feet long and three-and-a-half feet wide. This has layers of batteries inside the tray," Page said.
Magna is a global employer, with 158,000 employees in 343 manufacturing operations and 91 product-development, engineering and sales centres spanning 28 countries.