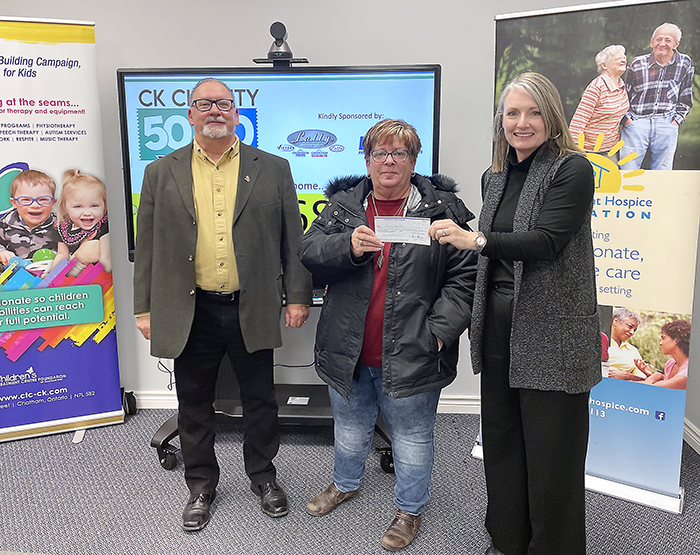 A Merlin woman has nearly 47,000 reasons to smile after winning the CK Charity 50/50 Raffle March 2.
And two of those reasons are the support the foundations of the Chatham-Kent Hospice and the Children's Treatment Centre of Chatham-Kent (CTCCK) received from the raffle. The organizations ran the raffle and split the proceeds.
The remainder, $46,685, goes to winner Tammy Howell, winner of the jackpot.
The CK Charity 50/50 Raffle launched at the beginning of the New Year. By 1 p.m. March 2, more than 2,800 people purchased tickets.
The raffle was a joint effort between the foundations of the two organizations involved, the hospice and the treatment centre. The net proceeds from the raffle will be divided equally between the two organizations and be used to support people in our community, from infants to seniors, who are aided by these organizations.
"The real winners are the families that are served by the Chatham-Kent Hospice Foundation and the Children's Treatment Centre Foundation," hospice foundation executive director Jodi Maroney said.
Mike Genge, executive director of the CTCCK Foundation, said sales hit a higher gear in the final days.
"We gained about $28,000 in the last three days," he said. "It really turned out well. I think the community once again really did a great job supporting us."
Howell said she hasn't finalized a plan for how to spend the cash just yet.
"I am not sure what I will do with the money. This is a great surprise! Maybe I will put it towards a new car," she said in a news release.
This was the second year for the online 50/50 raffle. Organizers are leaning towards doing it again.
Last year, the raffle saw the winner walk away with more than $52,000.
Maroney said online 50/50 raffles for local charities have become quite popular.
"I think it's because they are so accessible, especially back in early January when things were more locked down," she said, referring to COVID-19 pandemic restrictions.
But as restrictions relaxed, Maroney said organizers were able to offer in-person sales opportunities once a week, which encouraged people to take part who are reluctant to purchase online.
Maroney said partnering with the Children's Treatment Centre Foundation helped make the event more manageable.
"Mike (Genge) and Lisa (Caron) at the Children's Treatment Centre Foundation are wonderful to work with. Partnering on this event was advantageous for both of us," she said. "Being able to share the workload made this much easier."
Genge agreed.
"It's a great partnership between ourselves and the hospice," he said.