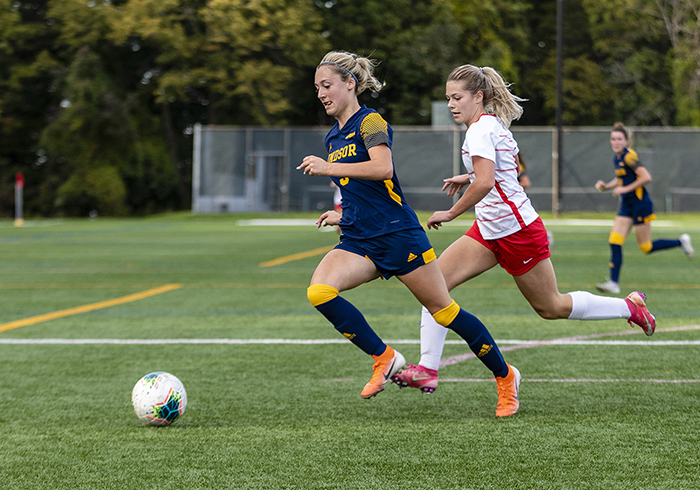 Chatham's Brooke Macleod, even in such a stressful time, has found balance.
The 19-year-old student-athlete turned heads with her play on the soccer field in 2021, as well as in the classroom.
Taking human kinetics at the University of Windsor, Macleod held down an 85 per cent average.
This while playing soccer for two teams.
Macleod has come a long way from her youthful days playing house league soccer in Chatham at the fields near the Chatham Courthouse, and attending Our Lady of Fatima School.
She made the jump to the Chatham Strikers travel soccer club, and eventually sought more challenges, joining the Windsor East Side Kickers so she could play the sport she loved year round.
Today, Macleod is a member of Tecumseh SC, which plays in the province's women's premier league, as well as the Windsor Lancers women's soccer team.
Macleod is ensconced at left back.
While with Tecumseh SC, Macleod earned second team all-star honours.
In her rookie season with the Lancers, she started every game, playing a staggering 871 minutes out of a possible 900.
Macleod doesn't find any difficulty in managing her busy school schedule with full sports schedule.
"I find it's more of a balance. When I take breaks, my breaks most of the time is soccer practice," she said. "I like the social aspect and it's a stress release."
That balance earned more accolades.
With her nose in her books, that turned into being recognized as an academic all-Canadian.
Macleod, who has run track and cross country in the past, said she loves soccer.
"I just like playing it and being in the team culture," she said. "With soccer, everyone's on a team with a common goal. I also like running and endurance sports."
Playing for the teams takes Macleod across the province. Tecumseh is in a division that goes up against clubs in the Toronto area, so there is no shortage of travelling for Macleod and her teammates.
Macleod has no plans to hang up her cleats anytime soon. She has four years of eligibility left with the Lancers, and she hopes to use all of them.
Following her human kinetics program, Macleod wants to enroll in teacher's college at Windsor.
As for when she eventually leaves post-secondary education, she hopes soccer remains in her future to some extent and will "go wherever the jobs take me."