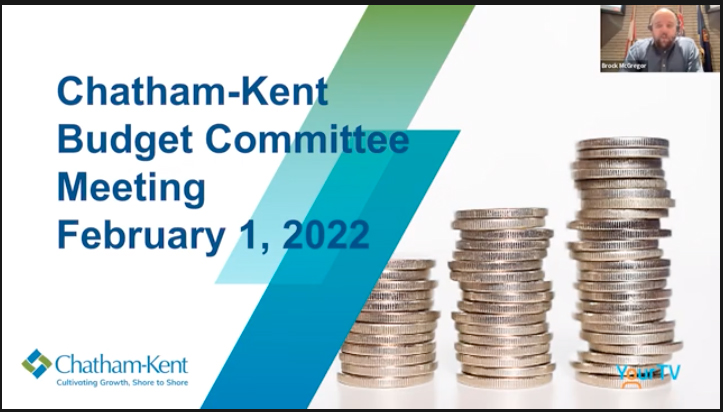 Watergate had its missing 18 and a half minutes of Oval Office recordings; Chatham-Kent council briefly had its missing 15 or so minutes or streamed budget talks last week.
It was brief, but one $200,000 decision was made out of the public's eye during the third night of budget deliberations.
Unlike Watergate, municipal officials initially had no idea what had happened, and posted the missing video online the next day for the public to see.
It was a motion on a $200,000 spending cut put forward by Wallaceburg Coun. Aaron Hall. It took place following a brief recess by the committee, which was deliberating via Zoom online meeting software. YourTV streamed the meeting, like it does with all council meetings, across multiple platforms. Unfortunately, when the break ended, the stream glitched and the feed remained in pause.
According to the Ontario Municipal Act, Section 239 states that with only a few exceptions, " all meetings shall be open to the public." With no live feed of proceedings, that "open" was instead "closed."
Ministry of Municipal Affairs spokesman Matt Carter said there will be no investigation into what happened, at least not from the provincial body.
"Municipalities are responsible for enforcement of the Municipal Act. The ministry does not investigate closed meeting cases," he said.
Carter added that if someone wanted to take issue with the proceedings, he or she should discuss the matter with the municipal clerk. In Chatham-Kent's case, that's Judy Smith.
Smith said she and budget chair initially had no idea the glitch had occurred. As soon as the feed was restored, Smith reviewed the proceedings for viewers.
"It was the YourTV feed," she said of the community television station. "They also do the YouTube and the Facebook feeds. But what we also do for our open meetings, because we are on a Zoom call, we record it. It was still recorded, but it's not like we turned off the call."
Dave Taylor, head of legal services for the municipality, said the live streaming and remote meetings are subject to potential technical glitches, and because the committee chair and the clerk were not initially aware of the problem, they did nothing wrong.
"While we strive to address all foreseeable issues, there is always the possibility of a technical issue, such as the one that occurred on Tuesday. Had the budget chair and municipal clerk known that the meeting was not being broadcast to the public, they would have paused the meeting until that issue was resolved," he said. "All reasonable steps were taken to ensure openness and transparency of the budget deliberation process."