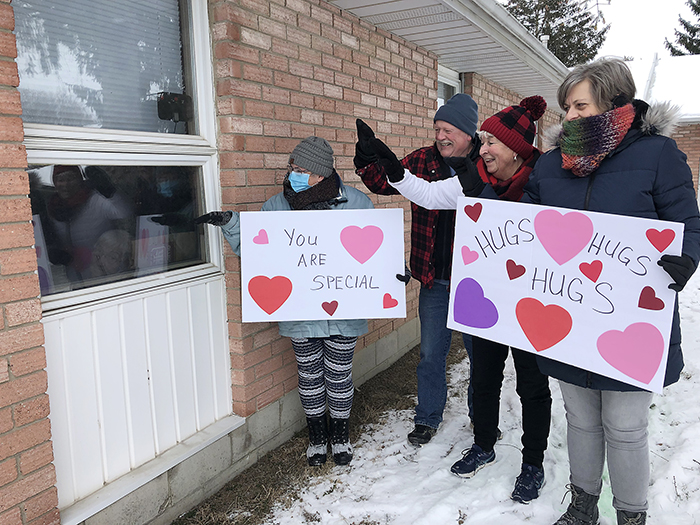 By Pam Wright
Local Journalism Initiative Reporter
January's icy grip couldn't stop the warmth from spreading at Park St. Place in Dresden last week.
On Thursday, community members took a special stroll around the retirement residence to bring some cheer to residents currently confined to their rooms due to a COVID-19 outbreak.
"It was an exceptional day for residents," said Park Street recreation director Sue Farrar. "They enjoyed people coming to say hello."
Entitled the PAWS-ITIVITY STROLL, the walk drew a wide array of participants.
"We had dogs, kids, school children and kids from the nursery school – it was really nice," Farrar said.
Resident's were also treated to Tim Hortons coffee, muffins and doughnuts thanks to family members pitching in the funds.
The respite was a welcome one for residents, as the facility has been in outbreak since Jan. 12, with 30 residents affected by the highly transmissible omicron variant.
Park Street is but one of four long-term care and retirement homes in COVID -19 outbreak as of late last week.
Fairfield Park in Wallaceburg, Village on the Ridge in Ridgetown and St. Andrew's Residence in Chatham are in outbreak, as well as five area group homes.
Despite being extremely careful for the past two years, Farrar said omicron finally found its way into Park Street. Farrar said it's the first time COVID-19 has affected the home, adding they've managed to to keep the delta variant at bay.
However, she said residents appear to be stable and on the mend.
"Most of our residents are doing well," Farrar added. "I think we are seeing the light at the end of the tunnel.
"It's definitely getting brighter."